"Sweet Bean" is a French-German-Japanese co-production movie released in 2015, and directed by Naomi Kawase. It was highly acclaimed around the world, especially at the Cannes International Film Festival. The film is based on the novel of the same title by Dorian Sukegawa, "An (Bean Paste)," which has been translated in 12 countries around the world. It is a work with a deep message about the relationship between people affected by leprosy and society. It was filmed in Higashimurayama City, Tokyo, where the beautiful cherry blossoms are particularly striking.
In this article, we will guide you to the cherry blossom trees in Higashimurayama City, where the film was shot, as well as recommended sightseeing spots in the area! In addition, we will introduce the tasty dorayaki, traditional Japanese confection that is similar to pancakes - which many will recognize from the anime and manga, "Doraemon", and zenzai (sweet bean soup) which feature the "an" from the title of the film, so please read through to the end.
Synopsis
Sentaro is the hired manager of a dorayaki shop called "Doraharu". As previously mentioned, Dorayaki is a dessert that looks like a pancake sandwich, with a sweet bean filling. One day, an old woman named Tokue comes to him, begging him to hire her. Sentaro turns her down, saying that it would be a lot of hard work, but he is surprised at how delicious Tokue's sweet bean paste is, and decides to hire her.
From then on, Doraharu becomes known as the "Dorayaki shop with the delicious bean jam" and begins to thrive. At first, Tokue only makes the dorayaki, but gradually she begins to show up at the store and deepens her relationship with Wakana, a local junior high school student.
After a while, the owner of Doraharu, who has heard that Tokue was a former leprosy patient, visited Sentaro and asked him to fire her, citing her illness as the reason.
However, Doraharu is thriving thanks to Tokue's bean paste. Sentaro doesn't want her to quit, but soon the customers start to leave the store...
Casting and Crew
Original novel: Dorian Sukegawa
Director / Screenplay: Kawase Naomi
Cast
KIKI Kirin(Yoshii Tokue)
Nagase Masatoshi(Sentaro)
Uchida Kyara(Wakana)
Ichihara Etsuko (Kako)
Miyoko Asada (Doraharu's owner)
Miki Mizuno (Wakana's mother)
Taiga Nakano (Yohei)
Wakahito Kanematsu (Wakahito) and others
The film was selected as the opening film of the 68th Cannes International Film Festival, and has since won numerous awards both in Japan and abroad. Despite the discrimination and misunderstandings about leprosy, the film left a lasting impression on many as they watched Tokue live her life without losing hope.
This film was the last work of the beloved actress Kirin Kiki. This was her last starring film, and she played in many films and TV dramas. She is fondly remembered for the warm and compassionate look in her eyes. The role of Wakana, a local junior high school student, was played by Kyara Uchida, Kiki's real-life granddaughter. Her dignified presence is one of the highlights of the film.



"Sweet Bean": Movie Sets and Locations
Higashi-murayama City was the location for the movie. As you can see from the movie, it is also a spot with many cherry blossoms, which bloom in early April/ late May. The locations introduced here all have cherry blossoms nearby. The timing may be tricky, but we recommend visiting during the cherry blossom season!
Near Kumegawa Station
Doraharu, the dorayaki shop where Sentaro and Tokue work, is located in a residential area lined with cherry blossom trees.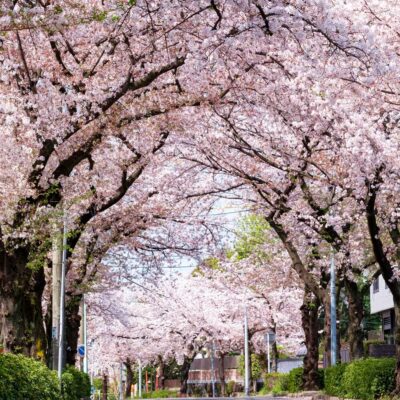 Unfortunately, "Dora Haru" was a set, but near Kumegawa Station, where the set was built, you can enjoy the same path of cherry blossoms as in the movie. During the cherry blossom viewing season, a cherry blossom festival is held on the main street, attracting many people.
Address...Around Sakae-cho 2-chome, Higashimurayama City
Kumegawa Train Library
The library that appears in the scene where Wakana reads a picture book to a child. This is not a set, but an unusual library built inside a train.
The brightly colored yellow train stands in a residential area with about 5,000 books including picture books on board. The train was actually used by Seibu Railroad, so it's a place that many railroad fans visit.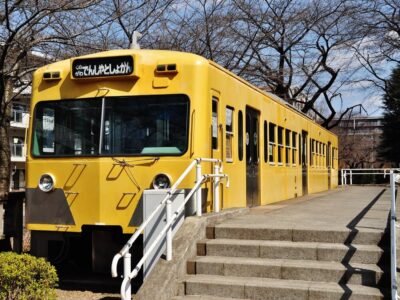 On days when the library is open, many children come to read picture books, making it a place of relaxation for the local community.
Address...1-4-1 Misumi-cho, Higashimurayama-shi
Access...15-minute walk from the south exit of Kumegawa Station on the Seibu Shinjuku Line / 10-minute walk from Yasaka Station on the Seibu Tamako Line
Open: Wednesdays, 10:00 a.m. to noon and 2:00 p.m. to 4:30 p.m. / Saturdays, 2:00 p.m. to 4:30 p.m.
Zensyo-en
The scene at the sanatorium where Tokue lives was filmed at the Zenshoen, a sanatorium for leprosy.
Japan has a sad past where patients were forcibly quarantined due to prejudice and discrimination against leprosy. The film depicted how this misunderstanding still persists today.
There is also a leprosy museum at the Zenshoen, where you can learn more about leprosy. (As of October 09, 2020, advance reservations are required due to measures to prevent the spread of the new coronavirus.)
There are many trees, including cherry blossoms, planted in the park where people undergoing treatment live, making it a popular place for people to take a stroll.
At the park's restaurant, you can enjoy Zenzai (sweet bean paste soup), which was also featured in the movie.
The product name, "Traveling Red Beans," was given by the author, Dorian Sukegawa. Try it while picturing Tokue boiling beans!
Address...4-1-13 Aobacho, Higashimurayama-shi
Access...Take Seibu Bus bound for Kumegawa Station (North Exit) from JR Shin-Akitsu Station and get off at Zenjoen-mae Bus Stop.
Closed (Museum): Mondays, the day following a national holiday, year-end and New Year holidays
Sights and Tours Around the City
In Higashimurayama, there are many places where you can enjoy cherry blossom viewing and take in some spectacular views! Let's take a quick look.
Higashimurayama Central Park
This is a park with many cherry trees in Higashimurayama. There is also a pond where you can play in the water and playground equipment, so you can enjoy this park with your children. There are a whopping 10 different kinds of cherry trees that bloom in spring!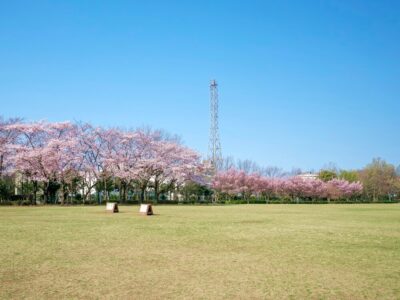 In addition to Someiyoshino, there are also double-flowered cherry trees called Kanzan and Kanhi-zakura, which are common in the Okinawa region. There is also the rare pale yellow "Ukon" cherry tree, so look for it as you walk around!
Address...Fujimi-cho 5-chome and Misumi-cho 1-chome, Higashimurayama-shi
Access...7 minutes walk from Yasaka Station on the Seibu-Tamako Line.
Lake Tama
If you go a little further from Higashimurayama, you can see Lake Tama, which is located near the border with Saitama Prefecture.
The building floating on the lake in the photo is said to be "the most beautiful water intake tower in Japan," and on a clear day, you can even see Mt. Fuji.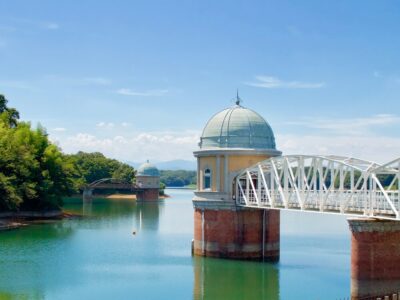 There is also the Tama Lake Bicycle Path that runs through Higashimurayama City, where you can enjoy cycling.
Murayama Lower Reservoir Iintake Tower1
Address: 4-644, Tamaiko, Higashiyamato City
Access...12 minutes walk from Musashi Yamato Station on the Seibu Tamako Line.
Yasaka Shrine
This shrine enshrines the god "Susanoo-no-Mikoto" from Japanese mythology.
Every year in mid-July, a two-day festival is held, and it is one of the most crowded festivals in Higashimurayama. Many food stalls are set up in the precincts.
Local Food and Souvenirs
Higashimurayama is home to many delicious local specialties and gourmet foods! These are just a few of the must-try items when you come to visit the filming locations.
Musashino Udon
Higashimurayama is a place where wheat has been grown since ancient times. This has given rise to a local culture of making udon noodles, and even today there are many udon stores lining the streets.
This restaurant, Kikuya, has a simple menu with only zaru udon. You can choose the amount of noodles and the dipping sauce to your liking.
The most popular menu is Niku-udon, you can taste the freshly made udon with the flavor of pork! How about a nice lunch during your trip?
Hand-made udon noodles, Kikuya
Address...2-12-16, Mawarata-cho, Higashimurayama-shi
Access: 10 minutes walk from Musashiyamato Station on Seibu Tamako Line.
Business hours: 11:00 - Close when sold out
Closed: Monday
Fried Noodles with Black Sauce
Kuro-yakisoba is a local gourmands in Higashi-murayama. The black appearance and thick flavor comes from the squid ink!

Chinese Restaurant Bonten's Black yakisoba noodles are thick and the sauce is full of flavor, making you want to eat it again and again. I want to order it with a beer!
[Chinese Cuisine Bonten Higashimurayama Branch
Address...1-37-30 Kumegawa-cho, Higashimurayama-shi
Access...15 min. walk from JR Musashino Line Shin-Akitsu Station
Opening hours: 11:00 - 23:00 (L.O. 22:00)
Closed irregularly
For those who want to eat black yakisoba at home, there is a black yakisoba sauce available for purchase!


This would be so easy to make at home! It would also make a great souvenir. You can purchase this sauce at the Rakuten Ichiba Internet mall or at the manufacturer's direct sales office.
Pole Starr Co. Shop
Address...3-28-2 Kumegawa-cho, Higashimurayama-shi
Access: 13-minute walk from Higashimurayama Station on the Seibu Shinjuku Line.
Dorayaki
Dorayaki is Japanese dessert consisting of two slices of sponge cake with red bean jam in between. Here are some dorayaki that we recommend from Higashi-murayama.
This Japanese confectionary store, Shimizu-ya, sells "Higashimurayama Shiodora" (salted dorayaki) based on this movie!
The dough for the dorayaki is made with a blend of wheat from Higashimurayama. The salted cherry blossom topping on the surface gives a hint of the movie!
These dorayaki are available all year round, and if you enjoy them during the cherry blossom season, you will be immersed in the world of the movie even more. These dorayaki are also available at the eat-in space inside the store.
Shimizuya
Address...2-4-1 Noguchi-cho, Higashimurayama-shi
Access...7 minutes walk from Higashimurayama Station on Seibu Shinjuku Line
Business hours: 9:30 - 18:30
Closed: Every Wednesday
Transportation
Most of the locations and sightseeing spots introduced here are within walking distance from the train station. If you use the Seibu Railway to tour the city, you will be able to get around efficiently.
Buses are also available, so you may want to use them when you visit Zenshoen, which is a bit far from the train station.
A limited number of rental bicycles are available at Higashimurayama and Kumegawa stations. If you want to explore the city at your leisure, this is also a good option!
Hotels and Airlines
To get to Higashimurayama City, it takes about 30 minutes by train from Seibu Shinjuku Station. It is very convenient to get there without changing trains.
The cost of transportation to Tokyo tends to be high, especially during major holidays. However, there are many options for transportation, so it is best to choose the one that best suits your travel plans.
Higashimurayama has good access to Tokyo, so it's a nice plan to stay in Tokyo and have a day-trip.
Editor's Note
"Sweet Bean" is a film that gives you a warm feeling and makes you think deeply at the same time. In this age of Covid-19, many of us are familiar with the discrimination and prejudice that is rampant in the world due to fear of infection. In this movie, there are many hints about how to live in the Covid-19 era while understanding each other.
Possibly, it is because we are now in the midst of the Covid-19 disaster that the message of the movie can be conveyed so effectively.
Once international travel becomes a possibility we hope you will take a moment to enjoy the unique Japanese atmosphere of "Sweet Bean" town, Higashimurayama.