In this article we will help you plan your Studio Ghibli Museum trip by introducing you to the current exhibitions, food at the "Straw Hat" cafe, planning for the Ghibli theater (you can only attend one showing per trip!) and of course, shopping. Additionally, we will tell you how you can get the Studio Ghibli Museum in Mitaka, how to buy a ticket, and related sightseeing in the Mitaka and Inokashira Park area.
The museum is a perfect blend of education and wonder, and an ideal destination for fans of all ages. So, if you are a Ghibli fan planning your Japan travel, make sure you don't miss out!
2001 Was A Big Year for Studio Ghibli
2001 was a powerful year for Studio Ghibli, it was the year they released their movie "Spirited Away" and the year the Studio Ghibli Museum (三鷹の森ジブリ美術館, Mitaka no Mori Ghibli Bijutsukan) in Mitaka, Tokyo finally opened. This meant that a place finally existed where Ghibli fans from all over the world could experience the whimsical architecture of Hayao Miyazaki in person and get a glimpse of what goes into the creation of Ghibli classics like, "My Neighbor Totoro" and "Princess Mononoke."
Step into the Ghibli World: About the Studio Ghibli Museum
Ever wonder what it would be like to step into a building designed by Hayao Miyazaki himself? As you might expect, it's slightly disorienting but amazing, nonetheless. Miyazaki designed the Ghibli museum in the same way he builds his films, by using storyboards. As with much of the architecture in his films, there is a strong European influence in the design. One influence is reported to be the hilltop town of Calcata, in Italy.
The main building has a relatively open design with spiral staircases and bridges popping up in a seemingly randomly fashion. There is a slightly maze-like feelings as some of these will lead to dead ends! Enjoy the architecture as the building itself is meant to be part of the exhibit. Some notable points inside the museum are the huge Cat Bus play area, and the outdoor garden featuring a giant robot from "Castle in the Sky", which is accessible by an iron spiral staircase.
Only children under 12 are allowed to interact with the Cat Bus - they can climb inside and on top of it, as well as toss around the numerous soft "Makkuro-Kurosuke," or Soot Sprites.



The Only Place to See Exclusive Studio Ghibli Movies: the Saturn Theater
When you enter the Ghibli Museum one of the first things you will receive from the staff at the entrance are movie tickets, shaped like movie-strips. Each of them is unique with different Ghibli images printed on them, so they are fun to collect.
When you go to see a movie they will be stamped, but not taken from you, so these are nice souvenirs to take home. The Saturn Theater is located on the basement level and features only about 80 seats. The benches are quite low to the ground, in order to be more accommodating for younger guests.
There are approximately 10 films that rotate on a monthly basis. These are original Studio Ghibli short films that are exclusive to the Saturn Theater. One of the films that is shown at the Ghibli museum is "Mei and the Baby Cat Bus," which is a mini sequel to "My Neighbor Totoro." It is a short but charming adventure about Mei traveling into the forest and encountering Cat Buses, big and small. As a side note, when the Ghibli museum reopened in June 2021, they exclusively screened their new film, "Earwig and the Witch," and it is currently unknown when they will return to their usual screening schedule. Please check the official website for updates.
From Storyboard to Animation: the Ghibli Museum's Exhibitions
A truly special thing about the Ghibli Museum in Mitaka is that it gives us special insight into Hayao Miyazaki's creative process. One of the exhibitions shows us how the movies were created – going from character and area concepts – to storyboards – and finally seeing how everything is colored in and put together. We can also see a replica of an animator's desk, which is surprisingly similar to the dad's desk in "My Neighbor Totoro." Seems like when Miyazaki is working, he likes to be surrounded by many books and objects for inspiration.
The current Ghibli museum special exhibition is on Studio Ghibli's newest film, "Earwig and the Witch." It's fascinating to see the difference in the creative process between a hand-drawn film like "Princess Mononoke" and a 3D CG film. There are some interactive computers that allow you to control a character's facial motions, which is very fun. Additionally, there is a small exhibit dedicated to the film, "Kubo and the Two Strings."



Dine Like a Ghibli Character at the Ghibli Museum Café..then Go Shopping!
Food plays a very memorable role in Studio Ghibli's movies. Ponyo's ramen, Satsuki and Mei's lunchboxes, even the extravagant feasts offered to No Face in "Spirited Away" have had a profound effect on all who have seen them. Mainly, because they look so delicious! The Ghibli museum has its own café, The Straw Hat Café, and a shop for all of your Ghibli Souvenirs, Mamma Aiuto.
The Straw Hat Café: A Ghibli Feast of Organic Japanese Food
Inside the Ghibli museum is a cheerful yellow building with a large patio, this is the Ghibli museum café – the Straw Hat Café – where you can eat delicious locally grown food. The quality of the ingredients is of utmost importance, so even if the fare is simple, it is sure to satisfy. The menu changes seasonally and if you're lucky you will encounter meals from your favorite Ghibli movie, like bacon and eggs from "Howl's Moving Castle," or Kiki's chocolate cake.
The wait times for the café can be quite long, so if you're going around lunchtime you should coordinate waiting on the line with your group – as it regularly takes up to an hour! If you're only looking for a snack there is a separate ordering window to the side of the restaurant which usually does not have a line at all. This is more for small things like ice cream, drinks, and French fries. Enjoy your Ghibli feast!
Mamma Aiuoto: No Face Socks, Kiki Cups, and Soft Totoro Toys
No museum would be complete without a shop to buy souvenirs, and for the Ghibli museum this is Mamma Aiuto. If you're a fan of "Porco Rosso" the name should sound familiar to you, as this is the name of the sky pirates from the film. The shop is fairly large and filled to the brim with all kinds of Ghibli collectibles.
There are plenty of stuffed toys of Ghibli favorites like Totoro and Cat Bus, and miscellaneous items like No Face socks and record-shaped coasters inspired by "Earwig and the Witch." There is also a jewelry section which has items inspired by the movies as well as replicas of things the characters wore – like Howl's earrings. There are also beautiful Studio Ghibli tea sets, with patterns from the various films. Simply put, it's a Ghibli goods extravaganza.
Where is the Studio Ghibli Museum?
The Studio Ghibli Museum is located in Mitaka, a neighborhood in western Tokyo. The museum is located inside the neighborhood's largest park, Inokashira Koen.
This park is a great location for fans of Japanese anime and video games due to its appearance in plenty of Japanese pop culture. The lake and the swan boats were shown in classic anime, "Great Teacher Onizuka." The lake is also featured in a few scenes of the Atlus RPG "Persona 5."
Inokashira park is a great place to relax and have a picnic or take a walk when you are visiting the museum. If you're looking for more entertainment, Inokashira Park has its own zoo which is focused on showcasing the local biodiversity, and a small amusement park for young children. There is also a shrine in the park to the goddess Benzaiten, who is considered to be one of the Seven Lucky Gods in Japanese mythology.
Your Day in Tokyo: How to Get to the Studio Ghibli Museum
Good news, the Studio Ghibli museum is really easy to get to from almost anywhere in Tokyo! Mitaka Station is served by the Chuo Line which you can take from a few major stations like Shinjuku and Tokyo Station.
Once you get to Mitaka Station, take the South Exit. From there you have two options. One is a 15-minute walk. The route takes you alongside the park, so it is quite a nice walk. The second option is to take the Ghibli Museum bus, it's hard to miss because the bus stop has Totoro on it! The Japanese for Ghibli museum is: 三鷹の森ジブリ美術館 and that is what the bus will display. Be sure to have a Tokyo transit card like Pasmo or Suica, or some small change to pay for the bus.
How to Buy a Ticket for the Studio Ghibli Museum
The tricky part about the Ghibli Museum is not getting there, it is buying a ticket. You must buy a ticket in advance which will specify both the date and the time. If you miss your time window by too much you could be denied entry, so please be careful. They space the tickets out to make sure guests are comfortable, and also as a precaution against spreading illness – like COVID-19. At the box office of the Ghibli Museum you will only find Totoro, and as a forest spirit he can't sell tickets, he's only there to welcome you!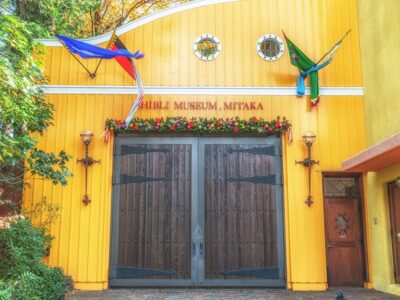 Tickets go on sale on the first day of every month, for three months in advance. That means that if for example you want to go to the Ghibli museum in September you should try to get your ticket on June 1st. Non-residents of Japan can use the JTB group, contact information for your area will be available from their official website. Another option is using Lawson, and information about both services is accessible from the Ghibli Museum's official website. Please note that overseas ticket sales are currently suspended for the Ghibli museum.
Ghibli Museum News Update
Like much of the tourism industry, the Studio Ghibli museum was hit hard by the Covid-19 pandemic. The museum closed for several periods during 2020-2021 and severely limited admissions when it was open, at times it was only accessible to visitors from the local neighborhood of Mitaka.
The loss of revenue was severe and the museum was unable to cover their costs. Luckily, the people of Japan stepped in to protect such an iconic and creative place. The city of Mitaka launched a crowdfunding drive in July, 2021 and the goal of 10 Million Yen was met within the first 24 hours!
Editor's Note
We hope that with this guide you are able to make the most of your trip to the Ghibli Museum in Mitaka, Tokyo. Happy Travels!