Released in 2019, Makoto Shinkai's "Weathering With You"("Tenki no Ko") is an anime romance and drama, with some supernatural elements. This is Shinkai's first film in three years since 2016's global hit "Your Name." The two films actually exist in the same universe, as "Your Name's" main characters Taki and Mitsuha make an appearance in "Weathering With You." Just like its predecessor, "Weathering With You" was a huge success, it even scored 4 Annie Award nominations, which is the same amount as Studio Ghibli's "Spirited Away" and Satoshi Kon's "Millenium Actress."
"Weathering With You" depicts many real locations in Tokyo in vivid and beautiful animation. In this article, we will introduce the locations, like Hina's shrine, the hill near her home, and areas in Shinjuku and Odaiba, so that all fans will be prepared take an anime tour of Tokyo when they visit Japan!
Synopsis
It is June 2021, the protagonist, Hodaka, runs away from the island where he lives to the biggest city in the world, Tokyo. In Tokyo it rains every day, but nobody thinks much of it as it is Japan's rainy season. Excited to be in the big city for the first time, Hodoka searches for a job and a place to live, and in the process, he meets a mysterious girl named Hina who can control the weather.
Hodaka proposes a "Sunshine Girl" business that utilizes Hina's ability to bring sunny weather to her clients, and launches a website. More and more requests come in, and the business takes off. Along with Hina's brother Nagi, the three children enjoy making money off their unique business idea.
However, it turns out that changing the weather comes with a price..
English Cast
The English dub of "Weathering with You" might surprise you, as it features some famous actors and actresses like Lee Pace ("The Hobbit") and Alison Brie ("Mad Men")! Take a look at the full English cast list below.
Hodaka Morishima: Brandon Engman
Hina Amano: Ashley Boettcher
Keisuke Suga: Lee Pace
Natsumi: Alison Brie
Nagi Amano: Emeke Guindo
Detective Yasui: Mike Pollock
Detective Takai: Riz Ahmed
Fumi Tachibana (Taki's Grandmother): Barbara Goodson
Mitsuha Miyamizu: Stephanie Sheh
Taki Tachibana: Michael Sinterniklaas
Japanese Cast and Crew
Kotaro Daigo (Morishima Hodaka)
Nana Mori (Amano Hina)
Oguri Shun (Suga Keisuke)
Honda Tsubasa (Natsumi)
Sakura Kiryu (Nagi Amano)
Sei Hiraizumi (Detective Yasui)
Kaji Yuki (Detective Takai)
Baisho Chieko (Tachibana Fumi)
Mone Kamishiraishi (Miyamizu Mitsuha)
Ryunosuke Kamiki (Taki Tachibana)
The film's music was composed by Japanese rock group, Radwimps, who also did the soundtrack to "Your Name." The theme song, "Is There Still Anything That Love Can Do?"("Ai ni Dekiru Koto wa Mada Aru Kai"), became the top-selling single in Japan when the movie was released.
\You might also like Makoto Shinkai's "Your Name"/
"Weathering With You": Real Locations in Tokyo
"Weathering with You" is a whirlwind tour of Tokyo, which showcases the city's famous landmarks, residential neighborhoods, secret shrines, and seedy neighborhoods. This movie captures the essence of Tokyo, and so can you!
The Place Where Hina Prayed: Asahi Inari Shrine (Ginza)
This is the shrine where Hina is given the power to control the weather in the early part of the movie. "Inari" is a Shinto god that usually takes the form of a fox and is associated with prosperity. This shrine is located near Ginza Station.
Asahi Inari Shrine is on the roof of the Daiko Asahi Building. You'll notice that there is also a shrine on the ground floor. There is actually a secret here. The two shrines are connected by a pipe filled with earth, so it is a meeting of earth and sky.
To go up to the shrine you can take the elevator up to the 8th floor and then take the emergency stairs to the roof. Note that you can't visit the shrine on Sundays and holidays!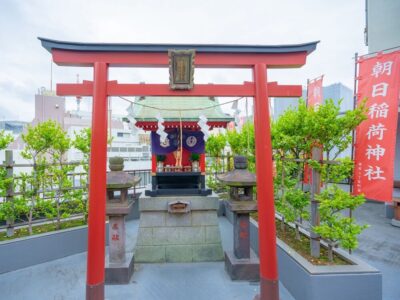 Fudozaka-Slope, the Way to Hina's Home (Tabata)
This is the hill near the apartment where Hina and her brother Nagi live. It appears frequently in the movie and is used in important scenes.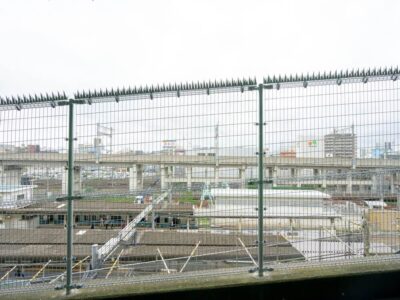 This slope is located at the south exit of Tabata Station on the JR Yamanote Line. It is a small station with very few passengers and a very rustic appearance among the Yamanote Line stations. By visiting, you can get an impression of the day-to-day life of ordinary people in Tokyo.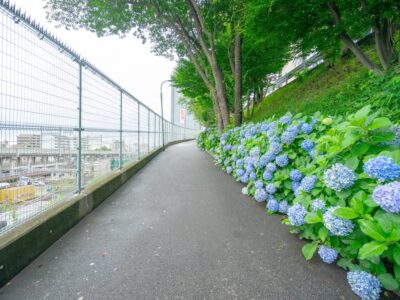 It is especially beautiful in June, when the hydrangeas are blooming. Fudozaka-slope became a topic of conversation after the release of the movie, when many people visited the hill on their "Weathering With You" pilgrimage.
Rainbow Bridge and Shibaura Minami-Futo Park
The place where Hodaka runs away from home and gazes at the Rainbow Bridge at dusk in a daze seems to be this area. The Rainbow Bridge is an iconic Tokyo landmark, and this park is a great way to enjoy the view while avoiding the hustle and bustle of the city.
Tokyo's Entertainment District, Kabukicho
Kabukicho is considered an entertainment and "red light" district in Tokyo, so if you are looking for high-end shopping or dining..this probably isn't the right place. In "Weathering with You" this is where Hodaka saved Hina from being trafficked by criminals. Though there are definitely shady characters from time to time, Kabukicho is a vibrant part of Tokyo's history and well-worth visiting (cautiously).
Some highlights are the huge Godzilla (covered below) and Shinjuku Golden Gai - which features tiny and unique bars.
Mambo Shinjuku, Hodaka's First Home in Tokyo (Shinjuku)
This is the Internet cafe that the main character, Hodaka, uses as his "base" at the beginning of the movie. Internet cafes are places where you can use a computer, watch movies, and some of them even have books and manga to borrow. As in the movie, customers have their own private booths, though often there are some common areas as well.

In the particular cafe, the accommodation was inexpensive and the showers were free, which must have been great for Hodaka, who ran away from home and was low on cash.
Unfortunately, Mambo Shinjuku closed at the end of August 2020 due Covid-19. It is no longer there now, but Tokyo is full of internet cafes if you need a place to rest while traveling.
Tokyo's Giant Godzilla: The Shinjuku Toho Building
This is the Shinjuku Toho Building, the place where Hodaka escaped from the policemen. The Godzilla head on top of the building is one of Tokyo's famous landmarks. The building has a movie theater, which screens both international and domestic films.
This Godzilla head emits a beam from its mouth and roars every hour between 12:00 and 20:00, so you may want to visit during those times.
McDonald's Seibu Shinjuku Ekimae Branch
This is the place where Hotaka and Hina first met. At that time, Hina was working there and she noticed Hodaka was likely a runaway with little cash. The scene where she secretly served him a Big Mac was very heartwarming, and it was a great way to introduce her "sunny" character.
As the store is located near the station, it is very crowded during meal times. It's in the very heart of Shinjuku, so it's a nice stop when you are doing other sightseeing in the area.
Takashimadaira Danchi
Takashimadaira Danchi is an area with large apartment blocks which appears at the end of the story.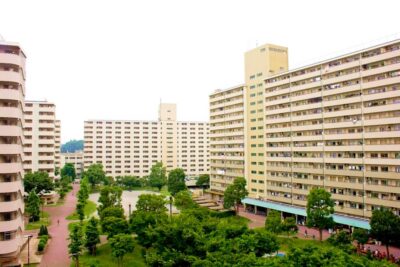 It has become a popular area where rents are much lower than in the city center, but it still has good access to the heart of Tokyo.
Sights and Tours Around Tokyo
Once you have finished your "Weathering With You" pilgrimage it's time to see what else Tokyo has to offer! Take a look at some great sightseeing options.
Locate the Gundam in Odaiba
Odaiba is one of the most popular spots in Tokyo. In the movie, there was a scene where the main characters went to Tokyo Teleport Station for their "Sunshine Girl" business.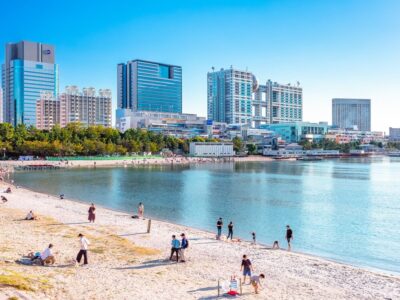 Odaiba has a variety of facilities, including Aqua City; a large shopping center where you can see the Statue of Liberty and the Rainbow Bridge; Diver City Tokyo; where a life-size Gundam sits, Tokyo Joypolis; one of the largest indoor theme parks in Japan, and the Giant Ferris Wheel in Palette Town, where you can enjoy a wonderful night view of Tokyo.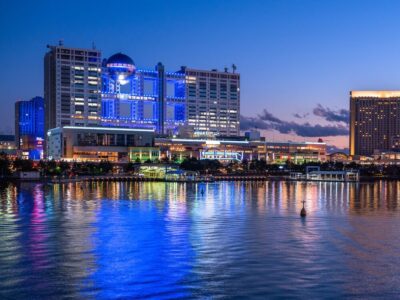 This is a spot for everyone, as it's great for a family outing, a shopping trip, and it's a famous Tokyo date location.
Mori Art Museum
The museum is located near Roppongi Station, on the 53rd floor of Roppongi Hills Mori Tower. It is located on the 53rd floor of Roppongi Hills Mori Tower, the highest exhibition space in the building in Japan.
There is a café on the 52nd floor where you can relax and enjoy your tea time while looking out over the city. In addition, if you purchase an admission ticket to the Sky Deck separately from the museum admission ticket, you can use the Sky Deck for a 360-degree view of the city.
Incidentally, this Skydeck also appears in the movie!
Local Restaurants
Though the restaurant most prominently featured in "Weathering with You" is Mcdonalds, Tokyo is a foodie paradise. Take a look at some restaurant choices that range from Japanese style "hamburg" to high-end Izakaya (Japanese pubs).
Hamburg Will: Japanese Style Burgers
Hamburg Will (ハンバーグ ウィル) is a restaurant located near the Shinjuku Gyoen Garden.
The hamburger steak is made from 100% "Iwanaka Pork," a premium brand of pork from Iwate Prefecture. There are three types of sauces: demi-glace, yuzu kosho (it's citrusy), and cream mustard, so you can customize your meal. Yuzu is a Japanese specialty, so it's our recommendation!
The restaurant's interior has a relaxed atmosphere, and at night, candles are lit on the tables, creating a high-quality mood for you to enjoy your meal.
Le Bretagne, Galettes and Crepes
This galette specialty restaurant is located near Kagurazaka Station on the Tozai Subway Line.
They offer galettes and crepes made with seasonal ingredients. The restaurant has a chic atmosphere with a touch of authentic France, and you can enjoy the food while feeling the authentic atmosphere.
We recommend coupling your meal with a glass of cider, a sparkling apple wine!
Gonpachi: the "Kill Bill" Izakaya
Gonpachi, also written as Gompachi, is an Izakaya in the Nishi-Azabu neighborhood that was made famous by Quentin Tarantino in "Kill Bill." However, if you go there, you'll find the food and atmosphere can't be beat-and that is Gonpachi's true claim to fame. It's possible to make a reservation, and that is our recommendation if you would like to dine at this iconic Tokyo restaurant.
View this post on Instagram
Editor's Note
"Weathering With You" is a film that tours Tokyo in a supernatural way, but the excessive rain is a reality for all locals during June and July. Makoto Shinkai was inspired to create a movie that commented on the increasing rainfall due to climate change.
Whether rain or shine, we wish you good luck on your Anime pilgrimage in Tokyo!