Hayao Miyazaki created "My Neighbor Totoro" for Studio Ghibli in 1988, and the rest was history. The movie was an international success, a cult classic, and Ghibli magic forever found its way into the hearts of millions of fans. In this article we will take a closer look at "My Neighbor Totoro"; the setting, the time period, and the characters. By analyzing the film against its historical Showa backdrop, we can gain more insight on how Japanese culture is an essential part of the film and enrich our understanding. In addition, we will examine the eternal question, what is Totoro?
Finally, we will look into the real-life location that inspired the lush forest and beautiful fields where Totoro takes place – Tokorozawa City, Saitama Japan. Our Totoro tour does not conclude there! We will guide you to Totoro-inspired desserts, Satsuki and Mei's house at the Studio Ghibli Theme Park, and finally the origins of the Totoro bus stop and the beautiful UNESCO eco-park that surrounds it. By the end of this article, you will be ready to plan your own Studio Ghibli adventure in Japan!
What, When, and Where: "My Neighbor Totoro"
"My Neighbor Totoro" is set in the 1950s in Saitama Prefecture, which borders Tokyo. The movie follows the Kusakabe family, mainly the two girls – Mei (4) and Satsuki (10). The girls along with their father have relocated to this rural area to be closer to their mother, who is currently being hospitalized. Her illness is often speculated to be tuberculosis, as Miyazaki's mother was sick with spinal tuberculosis during his youth.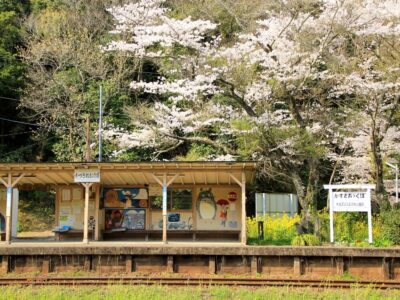 The film is mostly a slice of life look at rural Japan during this period, with the girls enjoying their "haunted house", friendly neighbors, and beautiful natural surroundings while they wait for their mom to come home. Studio Ghibli often portrays the lives of ordinary people, and "My Neighbor Totoro" is no exception.
"My Neighbor Totoro" Secured Studio Ghibli's Place in Animation History
"My Neighbor Totoro" was released in Japan in 1988 and cemented Studio Ghibli as a giant in the animation world. The movie won several awards such as Best Film and the Readers' Choice Award – Best Japanese Film at the Kinema Junpo Awards, Best Film and Ofuji Noburo Award at the Mainichi Film Awards, the Special Award at the Blue Ribbon Awards, and the Grand Prix at the Animage Anime Awards. Totoro was also nominated at the Saturn Awards for Best Genre Video Release.
Totoro became, and still is, an international success. It is a cult classic, with Totoro and Cat Bus plushes still selling all over the world, and cameo appearances of Totoro in movies like Toy Story 3. The film boasts totals of 41 million at the worldwide box office and the image of a grinning Totoro is synonymous with the name Studio Ghibli.
The Minds Behind the Magic of Totoro: Cast and Crew
"My Neighbor Totoro" was written and directed by Hayao Miyazaki, and it remains one of his most memorable directing experiences. Totoro was on Miyazaki's mind for a long time, even as a little boy he often drew a round animal that looked like a cross between a cat and a bear.
The memorable soundtrack was composed by Joe Hisaishi, the resident Studio Ghibli musical genius. The opening theme, "Sampo" ("Stroll" or "Walk" in English), sung by Azumi Inoue, has become a part of every childhood in Japan. It is one of the first songs Japanese children learn and is performed at many Kindergarten ceremonies!
The English Cast of "My Neighbor Totoro" (Disney)
Satsuki Kusakabe: Dakota Fanning
Mei Kusakabe: Elle Fanning
Tatsuo Kusakabe: Tim Daly
Yasuko Kusakabe: Lea Salonga
Totoro: Frank Welker
Kanta Ogaki: Paul Butcher
Granny: Pat Carrol
Catbus: Frank Welker
Why My Neighbor Totoro Has Two English Versions
When "My Neighbor Totorov was released in 1988, Streamline pictures purchased the rights for an exclusive English dub for Japan Airlines. That's right, Totoro's English debut was actually as an in-flight movie! Totoro did not get a theatrical release in America until 1993. It was met with a warm reception by critics, but many felt that the translation was too mechanical and took away from the natural charm of the film.
In 2004 the rights to the old English dub expired and Disney swooped in to purchase them. Totoro got a whole new English version and a new English cast with stars like Elle and Dakota Fanning and Lea Salonga. This new translation remained faithful to the original Japanese (something that is very important to Hayao Miyazaki) and was better received by film critics.
The Japanese Cast of "My Neighbor Totoro"
Satsuki Kusakabe: Noriko Hidaka
Mei Kusakabe: Chika Sakamoto
Tatsuo Kusakabe: Shigesato Itoi
Yasuko Kusakabe: Sumi Shimamoto
Totoro: Hitoshi Takagi
Kanta Ogaki: Toshiyuki Amagasa
Granny: Tanie Kitabayashi
Catbus: Naoki Tatsuta



Studio Ghibli Secrets: What is Totoro, His Name, and Age?
Though his name is in the title of the movie, Totoro remains somewhat of an enigma. In the movie, he is very animalistic, and never directly communicates in any kind of recognizable human speech (though Mei does seem to understand him somewhat). So, is Totoro an animal, a troll, or a deity? Let's take a look!
The King of the Forest?
Mei and Satsuki's dad, Tatsuo, refers to Totoro as the King of the Forest. In Japan's Shinto faith spirits or deities can inhabit many natural objects - especially old and impressive trees.
In this particular case, Totoro seems to be linked to the large camphor tree in the film. It is the place the Kusakabe family go to offer their prayers, and we can see it is surrounded by a white paper rope, called a Shimenawa. When a tree is surrounded by this kind of rope in Japan it indicates that a Kami, or deity, is residing there. So, in short, Totoro is most likely the guardian deity of the large camphor tree!
Is Totoro a Mimizuku; giant scops owl?
In terms of design, Miyazaki has indicated in interviews that he has been doodling a Totoro-like character since his youth! Totoro is large, with a big mouth and large flat teeth. Considering Totoro's large size, these herbivore teeth reassure the audience that Totoro is non-threatening.
The pattern on Totoro's chest is similar to that of a giant scops owl, also called Mimizuku. He especially appears like an owl when he is perching on the tree branch above his forest.
Are there 3 Totoros?
There are three Totoros in the film, with the large one being the most famous. Its name is O-Totoro as the Japanese prefix O- denotes respect. There is also a medium Totoro whose name was revealed to be Zuku in Ghibli storyboards, and a small Totoro who can turn translucent and is named Min.
They are 1302 years old, 679 years old, and 103 years old. Though none of this information is mentioned in the movie, Miyazaki can't seem to resist creating elaborate mythology!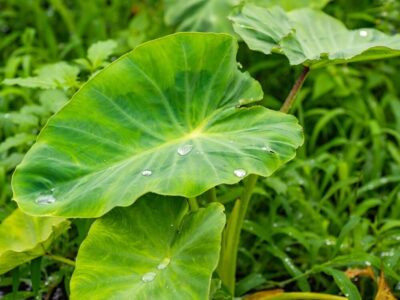 Is Totoro a monster or a good neighbor?
The climax of the film occurs when Satsuki and Mei's mom is supposed to come home but is delayed by illness. Satsuki as a pre-teen understands the situation but still shows mature existential fears, what if her mother dies? However, Mei as a little girl does not grasp the bigger picture, she simply wants her mom to come home right away. So, she runs away to find her. Mei's rescue is tense, emotional, and ultimately fantastical. Everyone works together to find Mei, even Totoro and the Cat Bus!
In the end, no matter what he is, Totoro turns out to be a very good neighbor.
Where in Japan does Totoro live?
"My Neighbor Totoro" may be a fantasy movie, but it very much has its foundation in reality. Let's take a closer look at "My Neighbor Totoro"; the setting, the time period, and the characters.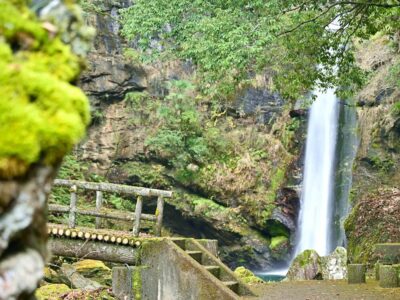 Totoro's forest is in Tokorozawa, Saitama
Miyazaki was inspired by Tokorozawa City in Saitama Prefecture, which was mostly farmland at the time the movie is set but has since been affected by urban sprawl from nearby Tokyo. These days it has more of a paved, suburban feel though the surrounding forests are still protected by the Totoro fund.
(Additionally, fans of the Japanese light novel series "Sword Art Online", by Reki Kawahara, might recognize Tokorozawa as the setting of some of the episodes.)
Early Showa era; nostalgia for "good old Japan"
In "My Neighbor Totoro", we are witnessing rural Japan roughly a decade after the end of WWII. This would be just after the end of the Allied occupation of Japan and the beginning of what is called the Japanese Miracle - a time of unparalleled prosperity in Japan. This half of the Showa era is viewed with a great deal of nostalgia as "good old Japan." It featured strong local communities, a connection to the land, an emphasis on familial bonds, and enjoying the outdoors.
Hayao Miyazaki was growing up around this time, and as a Tokyo native, he likely spent some time in Saitama. We can consider "My Neighbor Totoro" to be a nostalgic love letter to a Japan that exists now only in memories.
A fantasy and a tragedy; post-war peace and WWII loss
This Ghibli classic was released in theatres as a double feature with another Ghibli film by Isao Takahata (Only Yesterday, Pom Poko, My Neighbors the Yamadas, Tale of Princess Kaguya), "Grave of the Fireflies." This pairing may seem shocking to those who have seen both films and was received with mixed results at the time.
So, what is the connection between the two films, besides having been in production at the same time? A fantasy and a tragedy, "My Neighbor Totoro" and "Grave of the Fireflies" are two sides of the same coin. A tale of post-war peace starring two siblings is mirrored by a tale of World War II loss, also starring two siblings.



A Studio Ghibli Japan Trip: Visit Totoro's Home and more!
Miyazaki traveled to Sayama Hills, Saitama prefecture for Totoro's inspiration, and so can you!
Totoro no Mori (Totoro's Forest)
Totoro no Mori, or Totoro's Forest, is managed by the Totoro Furusato Foundation, and there are many numbered walking trails you can take in pursuit of a little Ghibli magic.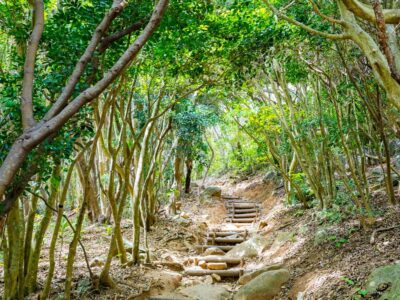 This nature preserve is 3,500-hectares, so there is plenty of exploration to be done. It is abundant in all types of natural life and you might even encounter a legendary Japanese Tanuki, or raccoon dog. They are the main characters of another Ghibli film – "Pom Poko."
We recommend Totoro no Mori no.3, as it features a deck close to the waterside and is gentle enough for children and adults. If you walk this course in early spring, make sure you take a peek into the crystal-clear water as you can possibly see tadpoles – just like Mei in "My Neighbor Totoro."
Take a Picture with Totoro in a Traditional Japanese House
The Sayama Hills area features another notable location, Kurosuke's house. Kurosuke's house, named after the soot sprites in the movie, is a traditional Japanese home that is over 100 years old. In the main building you can find a giant Totoro that you can take pictures with!
There is also a store selling Totoro-related items, a reading area, and an information area with exhibits. In addition to the main house, there is a Kura, or storehouse and an old green tea factory to explore.
Kurosuke's house has limited open days and hours. The pre-Covid-19 schedule was Tuesday, Wednesday and Saturday from 10 a.m. to 3 p.m. However, the house was closed indefinitely during Covid-19. They have announced a few open days during 2021, unfortunately they will be reservation-only. When planning your trip to Japan the best thing to do is check the official website for updates on when Kurosuke's house will be open. The Japanese site is the most-frequently updated one, so for the most current information please access that one with a translation service like Google Translate or DeepL.
How to Get to Totoro's Forest and Kurosuke's House
Though renting a car is the most convenient way to get to Sayama Hills, it is very possible to get there by train. One option is to take the Seibu Sayama line to Seibukyojo-mae station. This will put you right in front of the Metlife Dome, which is home to professional Japanese baseball team, the Saitama Seibu Lions. This means that if you time your trip right, you can catch a baseball game as well!
From this station, it is a 20-minute walk to Totoro's Forest No.1, from there you will be able to look at walking maps of the area and plan the rest of your Saitama Totoro sightseeing.
There is an additional sightseeing option here for enjoying the beauty of Japanese nature. Seibukyoji-mae station has a small limited train called the "Leo Liner". This tiny, retro train only connects three stations, but the large windows and boxy cars will give you great views of the outdoors.
Satsuki and Mei's House in The New Ghibli Theme Park
Satsuki and Mei's house, Kusakabe house, has been located in the Aichi Expo Memorial Park, which is also called Morikoro Park, in Aichi Prefecture, Japan. This is a full-scale replica, where visitors are welcome to enter all of the rooms, and even open most of the cabinets.
The house is stocked with products from the Showa-era, so you can get an authentic glimpse into old Japan while enjoying the wonder of walking through the house from the movie. One of the most popular points of this house is the open patio where you can sit and pose for a photo. It is an excellent Instagram opportunity!
Satsuki and Mei's "Haunted House" in Moricoro-park is closed for renewal
Satsuki and Mei's house in Moricoro-park will be closed October 3oth 2021 as it is being absorbed into the larger Studio Ghibli Theme Park which is currently under development. It will be part of the Totoro area when the park reopens in autumn 2022. The house is easy to access by train from Nagoya, it takes about one hour from Nagoya Station to Ai-Chikyuhaku-Kinen-Koen station by Higashiyama Line and Linimo.
The Kusakabe House's Architectural style
The Kusakabe house in "My Neighbor Totoro" is the intersection of East and West. It has so much character that it could be considered as part of the cast. One of the scenes introducing the house shows Satsuki and Mei interacting with a rotten pillar – which almost collapses! Despite that, and the fact that it is labeled as a "haunted house" by a few of the characters, the house is more charming than foreboding.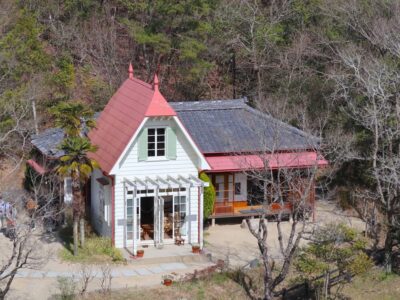 The bright exterior is more reminiscent of Western architecture, while the interior is traditionally Japanese. Inside we can see many staples of Japanese homes like tatami flooring and beautiful sliding doors with wooden frames and opaque paper – called Shoji in Japanese. This combination of Western and Japanese architecture is called a cultural house, and it is a particular favorite of Hayao Miyazaki, who enjoys Western culture and often fuses it with Japanese culture.
Enjoy a Historic Japanese Atmosphere in Kawagoe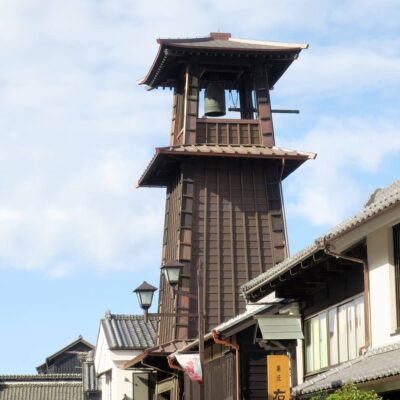 Not far from Totoro's forest you will find a place that preserves the beautiful architecture and atmosphere of old Edo, Kawagoe City. You may feel like you're in a movie, but the buildings are not sets, these are original buildings that date back to the 1600's.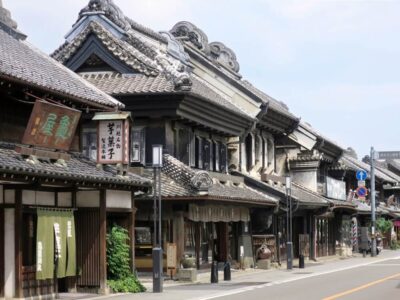 We recommend the Warehouse District, Kawagoe's main street with lots of shops and interesting restaurants – like Kotobukian whose specialty is Soba (buckwheat noodles) made with Matcha powder, and Candy Alley – a charming narrow alleyway brimming with handmade Japanese candy.
If you drive from the Sayama area it will take about 30-40 minutes via National Highway 16. Alternatively, if you are coming by train you can take the Shinjuku line.
Wait for the Cat Bus at the Totoro Bus Stop
The last stop on our Totoro tour is the Totoro Bus Stop in Saiki City, Oita prefecture. This bus stop actually predates the movie and has been named "ととろ(Totoro)" for quite some time.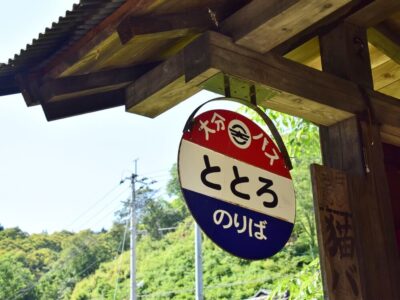 As My Neighbor Totoro grew in popularity and became a Japanese children's classic, Saiki locals decided to decorate the bus with images from the movie, and even cut-outs of Satsuki, Mei, and Totoro themselves. As a result, this small bus stop in a local town has become a kind of pilgrimage place for Studio Ghibli Fans.
UNESCO eco-park, the Fujigawachi Valley
Though Saiki is a quaint place it is also famous for one more thing, the Fujigawachi Valley. This UNESCO eco-park is known for its pristine natural beauty and clear, blue water. In the summer it is possible to join a tour and go canyoning.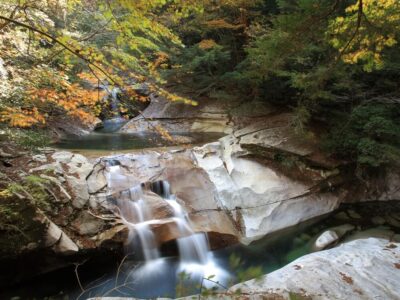 "My Neighbor Totoro" Inspired Food and Desserts
Japan does many things well, and cute food is no exception. As part of your Ghibli Japan adventure, we recommend that you sample Totoro-inspired desserts from a famous Tokyo Bakery, and pack a Bento, or Japanese lunchbox, so that you can travel like a native.
The Totoro Bakery: Shiro-Hige's Cream Puff Factory Daita
There are many places you can get Totoro-related souvenirs while in Japan, as Ghibli's official merchandise stores, Donguri, are in almost every major city. However, there is only one place to get "official" Totoro desserts – and that is Shiro-Hige's Cream Puff Factory Daita, in Setagaya Ward, Tokyo.
This small bakery has two floors, with the first floor being the shop, and the second floor being a small eat-in area which also has a bright terrace. The Totoro-shaped cream puffs are the most popular item on the menu, and they come in a variety of flavors – like cream and chocolate – which are available year-round.
They also have seasonal flavors, so make sure to check the menu and plan ahead! The cream puffs are made only in the morning, so there is a chance they will sell out. The earlier, the better, if you want to get your cute sugar fix.
Travel Like a Local - Buy or Make Your Own Japanese Bento
In "My Neighbor Totoro" Satsuki prepares Bentos, or lunchboxes, for her whole family. Mei's Bento is referred to as Totoro-Meshi, and it's a classic, simple, Japanese lunchbox. Bentos are great for traveling, and they are a wonderful way to participate in Japanese culture. If you would like to make your own Bento you can buy the box and other arrangements for a low price at one hundred-yen stores – like Daiso.
If you don't have a situation that allows food-preparation, like staying at a hotel, there are many specialty shops that make Bentos. In Tokyo station you can get an Eki-ben, or Station lunch box. Ekibenya Matsuri and Daimaru Tokyo Station are the biggest Bento stores in Tokyo station, so they will have the most variety, but there are many smaller shops as well.
Message from the editor
In making "My Neighbor Totoro", Hayao Miyazaki wanted to show his appreciation for Japan and all of its abundant natural beauty. We hope that when you visit Japan, you will be able to enjoy these gorgeous natural areas and find the true magic of "My Neighbor Totoro!"