Makoto Shinkai's film "Your Name" was released in 2016 and solidified Shinkai's position in the animation world. Prior to that he was an up-and-coming director with mostly domestic hits like "5 Centimeters Per Second" and "The Garden of Words." The film also attracted attention as an animation that established the "Movie Pilgrimage," a style of travel to visit the locations and stages of movies.
The scenery depicted in the film is so beautiful and vivid that it feels as if you have been transported to a new world. It's clear why it made a strong impression on so many viewers. In this article, we would like to share the charms of the two prefectures where the film is set, Gifu and Nagano, as well as Taki's hometown of Tokyo!
Synopsis
Taki Tachibana lives in Tokyo and Mitsuha Miyamizu lives in the countryside. The two realize that they have switched in their dreams, and experience each other's lives in a confusing way.
Initially, Taki and Mitsuha believe that the switching is just a dream, but as they see letters they don't remember writing in their notebooks and hear about events they don't remember from their friends and family, they become convinced that their bodies are really being switched.
However, one day, they find themselves wondering why they are no longer swapping lives, so they visit the places where the other person lives, relying on their memories. Will they be able to find each other?
English Cast
Michael Sinterniklaas (Taki Tachibana)
Stephanie Sheh (Mitsuha Miyamizu)
Kyle Hebert (Katsuhiko "Tessie" Teshigawara, Mitsuha's classmate)
Cassandra Morris (Sayaka Natori, Mitsuha's best friend)
Ben Pronsky (Tsukasa Fujii, Taki's classmate)
Ray Chase (Shinta Takagi, Taki's classmate)
Laura Prost (Miki Okudera, Taki's co-worker/senpai)
Glynnis Ellis (Hitoha Miyamizu, Mitsuha's grandmother)
Catie Harvey (Yotsuha Miyamizu, Mitsuha's sister)
Scott Williams (Toshiki Miyamizu, Mitsuha's father)
Michelle Ruff (Futaba Miyamizu, Mitsuha's mother)
Katy Vaughn (Yukari Yukino, teacher at Itomori High School)
Japanese Cast and Crew
Director: Makoto Shinkai
Animation Direction: Masashi Ando
Soundtrack Composed by: Radwimps
Voice Actor
Kamiki Ryunosuke (Tachibana Taki)
Mone Kamishiraishi (Miyamizu Mitsuha)
Masami Nagasawa (Miki Okudera)
Etsuko Ichihara(Ichiyo/grandmother)
Narita Ryo (Katsuhiko Teshigahara)
YUKI Aoi (Natori Sayaka)
Nobunaga Shimazaki (Tsukasa Fujii), etc.
Body swaps, time slips, gaps between city and country, and a love story.
Each of these elements can be found in any other work, but they have been successfully combined to create a unique, high-quality work. The beautiful animation that captures the charm of the real-life locations has also won the hearts of many people and inspired a new generation of travelers.
Movie sets and locations
This time, we will introduce three places from Gifu and Nagano prefectures where our heroine, Mitsuha, lived. As well as some of the key Tokyo locations from Taki's life.
Suwa Lake: The Real-Life Lake Itomori
Lake Suwa is located in Suwa City, Nagano Prefecture. It is said to be the model for Lake Itomori in Itomori Town, where Mitsuha and her friends live. The distance around the lake is about 16 kilometers, and it is known as the largest lake in Nagano Prefecture.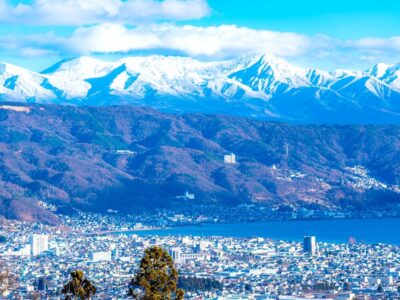 There are also walking trails around the area, and on a nice day, you can enjoy a leisurely stroll while looking out over the lake. Near Suwa Lake, there is Tateishi Park, from which you can enjoy a panoramic view of Suwa Lake.
In summer, lakeside fireworks are frequently held, sponsored by the local tourism association. Tourists come out in Yukata, light summer Kimono, from Japanese inns on the sandy beach to enjoy the powerful fireworks.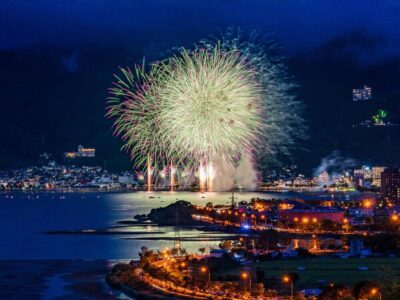 During the fireworks, there is also a sightseeing boat where you can watch the fireworks overhead while on board. It's a magical way to enjoy the fleeting beauty of the summer season.
Hida Furukawa Station
This is the station that the main character, Taki, uses when he goes to see Mitsuha.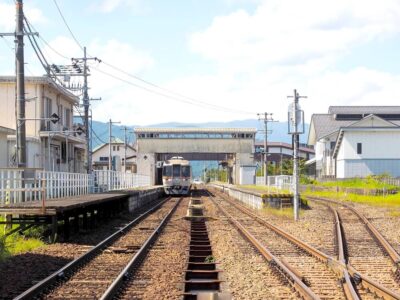 The station building is a perfect example of a rural Japanese train station, and it is surrounded by mountains and green landscapes. Two types of trains arrive and depart from tracks 1-3, one for Toyama and the other for Takayama and Gero.
The scene in the movie depicted a train stopping on track 2, which is quite rare as you can only see this scene once a day around 9:57am. It is recommended that you go to the station well in advance to allow plenty of time.
Hida City Library
It is in this library that Taki and his friends stop by to find out more about the town of Itomori, where Mitsuha lives.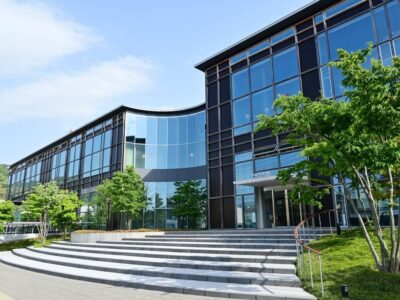 Located next to the Hida City Hall main building, it has a multi-purpose hall and meeting rooms, and is a place for many citizens to interact.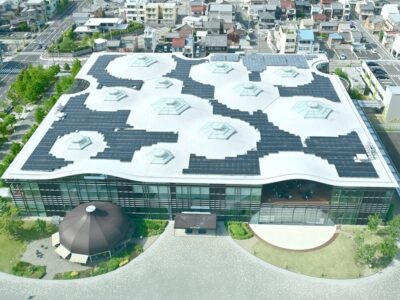 The museum is generally open from 9:00 to 19:00, and on Sundays from 9:00 to 17:00. The museum is closed on Mondays (or the following day if it is a national holiday), the last Friday of the month, and during the year-end and New Year holidays. Photography is not prohibited, but is allowed with permission from the receptionist, provided that the user's face is not identifiable.
Take the "Your Name" Pilgrimage to Tokyo
Taki's life in Tokyo is a central one, with a lot of the buildings that appear in the film being real landmarks that you can easily see when traveling in Tokyo. Some examples would be the DoCoMo tower as seen from Shinanomachi Station and the Shinjuku intersection by the Shinjuku police station.
Let's take a trip to some of the lesser known locations that featured prominently in Taki's (and Mitsuha's) lives.
Café La Boheme: Taki's Part-Time Job
The beautiful restaurant where Taki worked in "Your Name" is a real, affordable, and popular location you can enjoy for dinner or lunch. It is located a short walk from Shinjuku station and across the street from sprawling super-park, Shinjuku-gyoen.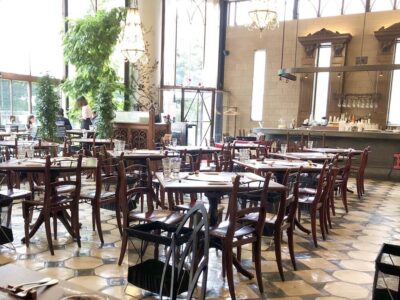 The interior atmosphere will take your breath away, from the elegant bar, tiled floors, to the high ceilings. There are many intimate small tables and also booths available for larger groups. The menu is mostly pasta, and the prices are very reasonable.
Taki's Date Location: The National Arts Center and Salon de THE Rond
This museum where Taki went on a date with his beautiful Senpai is a great place to stop by when traveling in Japan.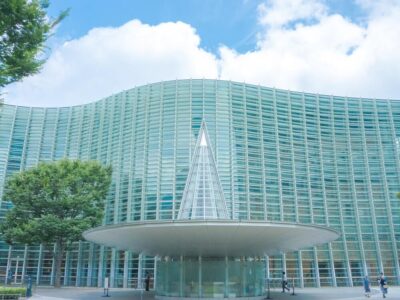 They have fascinating exhibitions which are always changing, like their "Fashion in Japan" exhibition which will run until September 2021. Plan ahead and check the official website before you go.
Salon de THE Rond, the museums restaurant, is built on an inverted cone, which gives you the slight impression that you are floating! This restaurant is well-known for its delicious and creative pastries, but they also often change the menu to match the exhibitions. The National Arts Center is certainly a unique date place.
The Steps of the Suga Shrine
The ending of "Your Name" certainly leaves a strong impression with an iconic scene of Mitsuha and Taki finally meeting on a staircase. In real life these are the stairs leading up to the Suga Shrine near Yotsuya Station. The red bannisters are unmistakable, so grab a friend and recreate your favorite scene!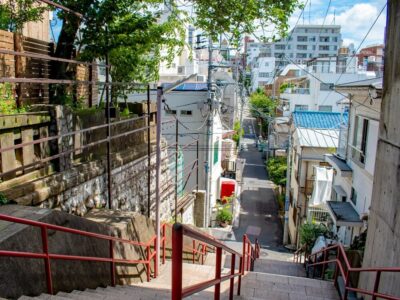 Suga Shrine is a great place to stop and take a break because the shrine is very quiet and peaceful. It is also very significant to the area as it is considered the guardian of the eighteen districts of Yotsuya.
Sights and tours in Hida Takayama and Suwa City
Here are some sightseeing spots in Hida Takayama and Suwa City, where Mitsuha's half of the story takes place. These sightseeing spots are rich in nature and tranquility, so they will ease the hectic pace of your Japanese journey and allow you to take in the local atmosphere.
Townscape of Hida Takayama, Japanese Castle Town
Hida Takayama, also known as the "Little Kyoto of Hida," is a castle town that attracts many tourists from Japan and abroad. It is a 10 minute walk from JR Takayama Station.
The area is lined with houses built from the end of the Edo period to the middle of the Meiji period, making it a place where you can enjoy the traditional scenery. It is a convenient place where you can enjoy shopping while looking at the vibrant and historical streets.
Sightseeing in the Hida area can be enjoyed in summer as well, but the snowy winter scenery is especially popular.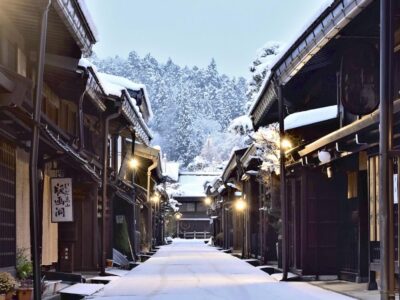 There is a sake brewery where you can sample sake, a miso brewery where you can sample miso soup, and a souvenir shop where you can buy cute little things.
Hida Village
Hida-no-Sato is a facility that recreates the life of an old Japanese farming village and hosts seasonal events in Hida.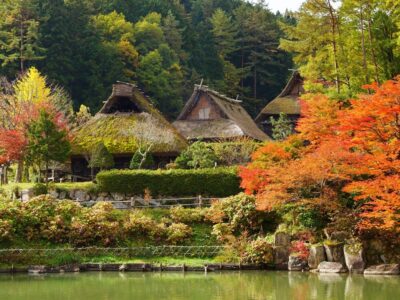 Gassho-zukuri, which are traditional houses made of wooden beams and a thatched roof, have been restored. Visitors can see the exteriors and interiors of various types of Japanese architecture. There are also demonstrations of straw work and Sashiko, traditional Japanese embroidery, and visitors can learn about the traditional crafts of Hida.
At night, each of the houses is illuminated, creating a fantastic sight. Winter is a particularly popular season to visit.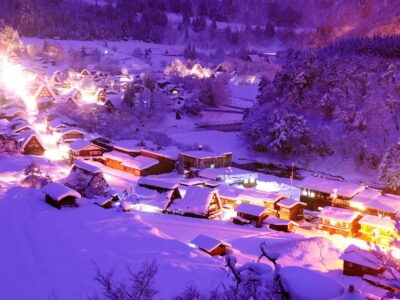 Take the "Sarubobo-Bus" from Takayama Station and get off at the "Hida-no-Sato" bus stop. It takes about 30 minutes by bus from Takayama Station.
Kamisuwa Onsen: Hot Springs Overlooking a Lake
Kamisuwa Onsen boasts one of the highest volumes of hot water in Japan, and is in a location that overlooks Lake Suwa. It's relaxation and rejuvenation with a view!
Katakura-kan the "1,000 Person Bath"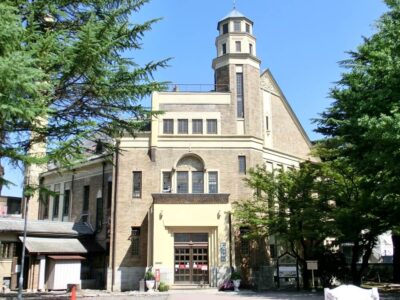 The Katakurakan, a landmark hot spring facility in Kamisuwa Onsen, has a 1.1-meter-deep "Sennin-buro," which is said to be able to accommodate 1,000 people at a time. It is deep enough that visitors must stand, rather than sit. The unique point is that the bottom of this bath is lined with jade gravel, which stimulates the soles of the feet and has a beneficial effect on the body along with the hot spring water.
Katakurakan was a welfare facility for women workers who supported the industrial revolution in Japan. It was built at a time when Japan was not yet affluent, and the business owner had the idea to provide all the employees with a comfortable bath time.
Suwa Lake Geyser Center
At the Suwa Lake Geyser Center, geysers blow up about every hour and a half, and you can enjoy the dynamic scenery.
While waiting for the geyser to erupt, visitors can make hot spring eggs using the hot spring water. Eggs boiled with hot spring water are said to be particularly delicious.
Local food and souvenirs
Here we will introduce the gourmet food of Hida Takayama and Suwa City, where the story takes place.
Japanese Wagyu: Hida Beef
When you think of gourmet food in Hida Takayama, the first thing that comes to mind is Hida beef. It is characterized by its light pink color and high marbling. The texture is very tender, and you can enjoy its sweet taste with lots of flavor.
Sakaguchi-ya Restaurant(御食事処 坂口屋)
Our recommended restaurant is Sakaguchi-ya.
Since the inn was established in the 1907s, it still retains its old-fashioned appearance and interior. You can enjoy local cuisine such as Hida beef while feeling as if you have stepped back in time to the Meiji era.
Fuchinobo; Buddhist Vegetarian Cuisine
Nagano is famous for its Buddhist temples. Especially around Zenkoji-shita Station, there are many lodging houses for those who visit Zenkoji Temple. Try delicious vegetarian cuisine; it's a great feast for vegetarians and non-vegetarians!
Fuchinobo(淵之坊)
Fuchinobo is often said to be the best in the area.
Many of those who enjoy their meal say, "I never knew vegetarian food could taste so good!" Fuchinobo is a lodging house, so you can also stay the night.
Local Nagano Cuisine: Venison and Horse Meat
Surprisingly, you can eat venison dishes in Nagano Prefecture, which are rare in other prefectures.
Restaurant Ban-ya(飲食処ばんや)
The restaurant Banya offers a variety of local dishes. I recommend the "Horse and Deer Set". This is a dish where you can enjoy horse meat along with the famous venison.
The restaurant has a relaxed, Japanese-style atmosphere. There are many counter seats and table seats to accommodate a variety of situations, including those of single people, couples, and families.
Transportation
Both Hida Takayama and Suwa City are convenient to get to by train and bus.
Hida-takayama
Hida Takayama can be reached by train or bus, and there are several buses that run from JR Takayama Station, such as the Sarubobo Bus and Machinami Bus, which will take you to various sightseeing spots.
Suwa-city
Suwa City is another area where trains and buses are convenient. Most of the city's tourist attractions can be reached by bus.
For those who want to enjoy Lake Suwa, the "Suwa Lake Sightseeing Steamship" is recommended, and the boarding point is about an 8-minute walk from JR Kamisuwa Station. The ships are very cute, as they are shaped like either a swan or a turtle. In addition to the beautiful scenery from the lake, if the weather is good, you can even see Mt. Fuji.
Editor's Note
The pilgrimage to the holy places of "Your Name" has become very famous, and Hida Takayama and Suwa City, where the movie was set, have so many attractions. There are plenty of spots where you can enjoy the historic streets and rich natural scenery! While touring the stages of the scenes from the movie, be sure to visit the attractive spots in Hida Takayama, Suwa City, and Tokyo and follow in the footsteps of Taki and Mitsuha. Happy travels!