"Howl's Moving Castle" was released in 2004 by Studio Ghibli and Hayao Miyazaki. The movie is based on a book with the same title, by the author Diana Wynne Jones, though if you compare the two - you will find them to be quite different! This Miyazaki masterpiece was nominated for an Academy Award just like its predecessor, "Spirited Away", though "Howl's Moving Castle" ended up not winning the Academy Award it was still a great success.
The scenery in the film which depicts distinctly European architecture is a stark departure from the Japanese visuals of "Spirited Away." In this article we will explore the real-life locations that may have inspired the townscapes of "Howl's Moving Castle" by heading to the Alsace region in France, and luckily you won't even need a moving castle!
Synopsis
Sophie is an earnest girl who works in a hat shop in town. Compared to her glamorous sister, Lettie, she feels like she is quite plain, and she wonders if anyone will ever notice her. One day, she is saved from danger by the handsome wizard Howl, and finds herself completely charmed by him. However, after she returns to her shop, Sophie is cursed by the Witch of the Waste to become a "90-year-old grandmother."
Taking on the appearance of an elderly woman actually ends up being quite liberating for Sophie, who decides to go out on an adventure of her own. There she ends up in Wizard Howl's own moving castle, where it turns out that Howl has a curse of his own. "Howl's Moving Castle" is full of romance, drama, and of course a hefty amount of "Ghibli Magic."
Will Sophie be able to lift Howl's curse before it's too late?
\If you liked this movie, you may also like.../
English Cast and Crew
Emily Mortimer (Young Sophie Hatter)
Jean Simmons (Old Sophie Hatter)
Christian Bale (Howl)
Lauren Bacall (Witch of the Waste)
Billy Crystal (Calcifer)
Josh Hutcherson (Markl)
Blythe Danner (Suliman)
Japanese Cast and Crew
Director: Hayao Miyazaki
Producer: Toshi Suzuki
Composer: Joe Hisaishi
Cast:
Baisho Chieko (Sophie)
Takuya Kimura (Howl)
MIWA Akihiro (The Witch of the Waste)
Ryunosuke Kamiki (Markl)
Tatsuya Gashuin (Calcifer)
Yo Oizumi (Turnip) and others
Fun Facts:
Takuya Kimura, who voiced Howl, was a member of one of Japan's legendary idol groups, SMAP! This was his first time put his vocal talents to voice acting.
Unlike the English dub, Baisho Chieko played the roles of both young and old Sophie!



Movie Sets and Locations
Thanks to the magic of Howl's Moving Castle and its magic door, which could transport Sophie, Howl, and Markl to a few different locations, there was a variety of beautiful scenery for the characters to explore. Read on to find out about locations in the Alsace region of France that may have inspired Studio Ghibli's animators.
Colmar: Sophie Hatter's Hometown?
Colmar is a city in the northeast of France. This city is the model for the town where the main character Sophie lives, and its scenery, with its colorful buildings and flowers adorning the houses, is a fairy tale town that looks like something out of a movie. The area is also close to the border with Germany.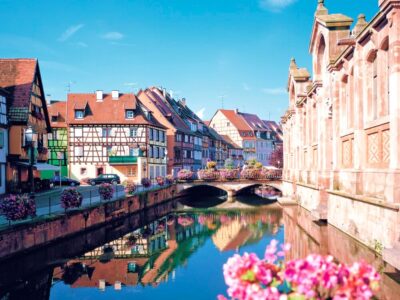 Colmar is also known as the "Venice of France." Taking a gondola ride is one of the most enjoyable ways to see the city. Compared to the original Venice, the Roche River flowing through Colmar is narrower and shorter, so it is easy to ride.
The view of the city from the gondola is particularly spectacular, and you will feel as if you are floating through a flower garden.
Riquewihr: "One of the Most Beautiful Villages in France"
It is commonly rumored that Hayao Miyazaki visited two places in France during the production of "Howl's Moving Castle." The first was Colmar and the second was Riquewihr, located in North-Eastern France. Visiting here is like stepping back in time to the 16th century, as this town was luckily relatively unscathed by WWII. The colorful houses and the Dolder Tower are sure to provide a strong impression of the movies' architecture.
View this post on Instagram

There is a museum about Alsace during WWII so this is a great stop for history buffs and Ghibli fans alike. Additionally, Alsace is known for its delicious fare, so be sure to stop by a Winstub, or traditional restaurant (the name directly translates to "wine lounge"), and dine like a local!
The Rolling Hills of Howl's World: Vineyards in Alsace
Many people may envision the scene in Howl's Moving Castle where the castle moves through rich nature. The Alsace region is lush and green and is one of the most famous regions known to wine lovers.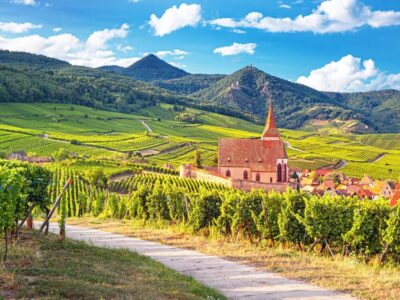 Colmar is also located in the Alsace region, so visiting a winery after touring the city is a great way to unwind during your Ghibli adventure. After all, fine food and drink is a Ghibli staple!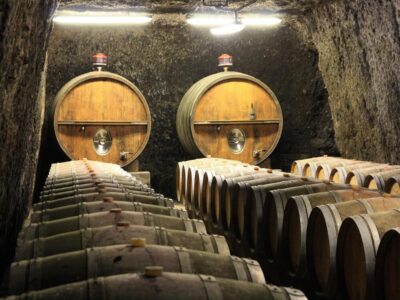 Don't forget to buy a bottle of Alsatian wine as a souvenir, as it goes perfectly with the bacon and eggs made famous by "Howl's Moving Castle."
Related Travels in Alsace, France
Here are some of the nearby attractions that are a must-see when visiting the Alsace region.
Strasbourg, a Picturesque World Heritage Site
Strasbourg is about a 30-minute train ride from Colmar. The old town is so beautiful that it has been designated as a World Heritage Site.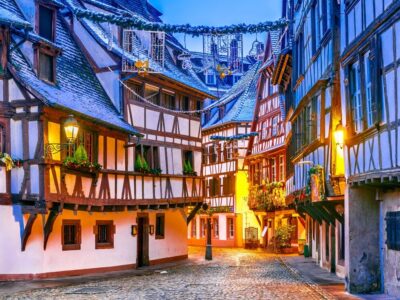 The symbol of the city, Notre Dame Cathedral, is an impressive 142 meters in size!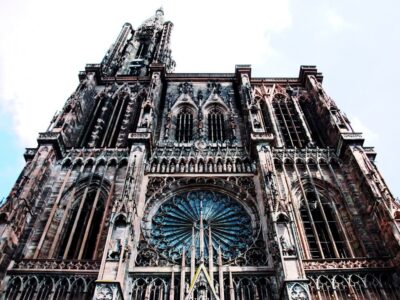 The world's largest astronomical clock in Notre Dame Cathedral is a popular spot for tourists, and at 12:30 every day, cute dolls start dancing, so be sure to time your visit right.
The city is also very famous for its Christmas market. There is a common rumor among Ghibli fans that Hayao Miyazaki had the idea to create a film for "Howl's Moving Castle" when visiting this very market! Perhaps we will be similarly inspired?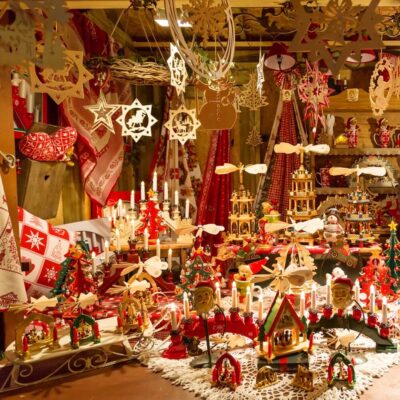 It is also known as the "Capital of Christmas" and is a great place to visit in the winter, when large fir trees are set up and decorated.
Studio Ghibli Theme Park: Enter Howl's Castle
The Studio Ghibli Theme Park is set to open in Fall 2022, in Aichi, Japan. It will feature areas based on a number of Ghibli films but most importantly, there will be a life-sized model of Howl's castle! This exhibit will reportedly be 4-5 stories, so there will be plenty to explore. The castle will reportedly not be able to move, but we are excited to see it in person, nonetheless!
Studio Ghibli Museum, Tokyo, Japan
A Studio Ghibli journey need not take you to France, as you can find plenty of Ghibli charm near their headquarters in Japan. The Studio Ghibli Museum is located in the Tokyo suburb of Mitaka and it is a great way to get a sneak peek into what goes into making the films.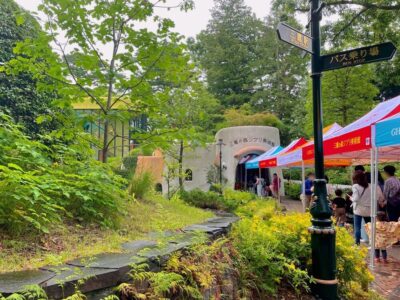 The museum is located about a 15-minute walk from Mitaka Station in Tokyo, and there is also a bus service from the station, which of course leaves from a bus stop with an image of Totoro!
The theme of the museum is, "Let's get lost, together," and to be honest you probably will! The museum has numerous staircases and dead-ends, but that's part of the charm. Plus, you can be a fabulous wizard like Howl by purchasing some of his jewelry at the museum shop, Mama Aiuto.
Local Food and Souvenirs
Here are some of the specialties that you must not miss when you visit the Alsace region for your Ghibli pilgrimage.
Tarte Flambée, an Alsace Pizza?
Tarte Flambée is a winter staple in the Alsace region. A thin wheat dough is spread with sour cream, then topped with bacon and onions and baked.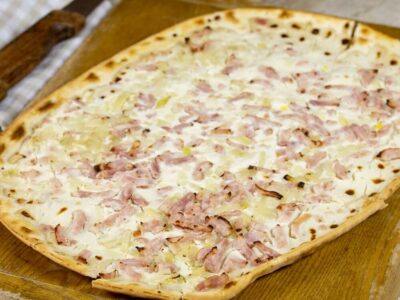 It looks like a French-style pizza, but its flavor is best paired with a white wine (Riesling) from the Alsace region.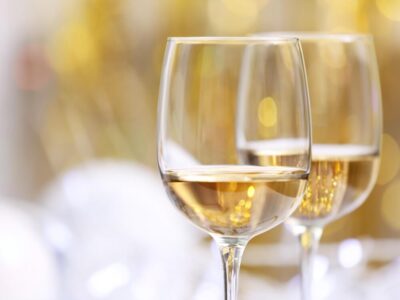 It is loved by the people of the Alsace region, and the tarte flambée served there is said to be exceptional.
It is surprisingly easy to make it yourself, so if you are curious, give it a go!
Choucroute Garnie, A Cozy Meal
It's not only Germany that's famous for sauerkraut, the Alsace region is famous for its choucroute, which is French for sauerkraut! Actually, choucroute from Alsace recently received something called the European PGI, which stands for Protected Geographical Indication. So when shopping for some to take home look for a blue and yellow sticker on the jar - this will prove that you are buying 100% Alsatian choucroute.
View this post on Instagram

While out at restaurants (or back home) try a traditional dish, a choucroute garnie. This "dressed up" choucroute just means that it is sauerkraut served along with meat or fish, and other seasonings or sauces. It's famously eaten in winter, because it is such a hearty meal.
An Alsatian "Pretzel", the Bretzel
Though it may look like a pretzel, the recipe is not the same and people in Colmar and Alsace call it a Bretzel. They come in sweet and salty flavors, and every bakery is sure to have its own take on it. Be sure to bring your appetite!
View this post on Instagram
Recommended Hotels
Though it is not possible (at this moment) to stay in a moving castle, there are plenty of charming hotels and inns in the Alsace region that will give you a similar atmosphere.
Hôtel Le Maréchal, Colmar
View this post on Instagram
Hôtel Cour du Corbeau, Strasbourg
The hotel in Strasbourg is ideal for those who want to enjoy the visuals of a traditional exterior, while still enjoying a modern interior. It is the best of both worlds!
View this post on Instagram
Fauchon L'hotel, Paris
This hotel is located in the center of Paris, run by the famous brand Fauchon.
Opened in 2018, this hotel is run by Fauchon and is recommended for those who want to start (or end) their French adventure with a touch of luxury. The Champs-Elysées is also within walking distance, so it's a good way to enjoy Parisian history.
\If you like this movie, you may also like.../
Editor's Note
"Howl's Moving Castle" charmed the next generation of Ghibli fans and visiting the locations that inspired the film is well-worth the planning effort! What Miyazaki wanted to convey with this film is that life is worth living, no matter what. "Ghibli Magic" is the joy in the small things in life, and moments of leisure spent with our favorite people.
We wish you the best of luck on your journeys, may we all find our own moving castles!