The movie "And Then I Became a Father" released in 2013 is an internationally acclaimed film that carefully depicts the meaning of family. The director, Hirokazu Kore-eda, is a filmmaker who specializes in films that portray the essence of human nature.
A family of elite businessmen living in the city and a family of free spirits living in the suburbs, the film contrasts the situations of the two families, one in an apartment in the city and the other in the wilderness of Gunma.
Here are some sightseeing spots and gourmet food in Gunma Prefecture, where the movie was filmed!
Synopsis
The Nonomiya family of three, Ryota, his wife Midori, and their son Keita, are living a friendly and peaceful life in an apartment in the heart of the Tokyo. One day, they receive a call from the hospital where their son was born and are told that Keita is actually someone else's child, who was mistaken by a nurse.
Ryota and his family meet with the other family, and both families promise to let their children stay with the other family for the weekend. The other family, however, lives in the suburbs, and as an elitist city dweller, Ryota is not sure if he can trust them with his children. Ryota plans to take in both children himself, but...
Casting and Crew
Director: Hirokazu Kore-eda
Cast: Masaharu Fukuyama
FUKUYAMA Masaharu (NONOMIYA Ryota)
ONO Machiko (Midori Nonomiya)
NINOMIYA Keita (NONOMIYA Keita)
MAKI Yoko (Saiki Yukari)
Lily Franky (Saiki Yudai)
Gen Huang (Ryuharu Saiki) and others
This is a film about two families who are tossed about by the mistaken identity of a child. The story is both sad and heartwarming.
Movie sets and locations
Gunma Prefecture was the setting for the movie. Let's take a look at some of the locations used in the movie!
Baycock Eastern Bypass Store
Baycock is a lunch box chain in Maebashi City, offering hearty lunch boxes at a reasonable price. The store is open until midnight and is reputed to be very convenient.

It was used as a location for the part-time job of Yukari, the wife of the Saiki family.
Bay Kok has a particularly wide variety of Nori-ben (bento with seaweed), which can be combined with various fried foods such as fried chicken and minced meat cutlet.
Gunma Central Hospital
Gunma Central Hospital appeared as the location of the hospital where two children were mistaken for each other (actually, no such incident occurred).
It is used for the shocking scene where the hospital reports the mistaken identity of the child to the two families, which is an important place in the story.
Tonegawa-river Bicycle Path
The Tone River Bicycle Path is the longest cycling course in Japan. It appeared as a scene where Ryota and his son Keita shared their feelings for each other.
This is a cycling course of about 67 km from Kanai, Shibukawa City, Gunma Prefecture to Suka, Gyoda City, Saitama Prefecture.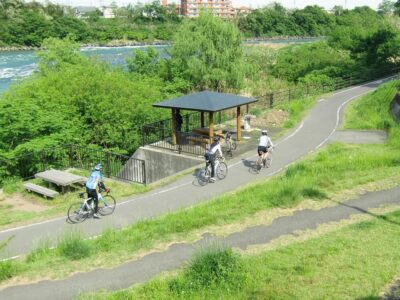 You used to be able to rent bicycles for free, but due to the new Corona and the Japanese Government's Emergency Declaration, rental bicycles are closing for good or shortening their hours. Check the restroom locations before you ride.
Sights and Tours Around the City
Roadside Station: Gurinflower Farm, Ogo
Michi no Eki Green Flower Farm Ogo is a recommended spot in Maebashi City.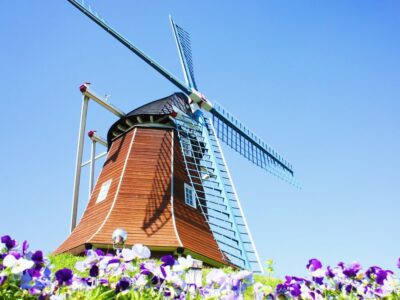 This farm has a vast area, and it's free! You can also interact with animals such as cows, horses, and sheep, and it is famous as a very popular roadside station for families.
Sekaino Meiken Bokujo (World Famous Dog Farm)
This is another dog theme park located in Maebashi City, and features one of the largest dog runs in Japan.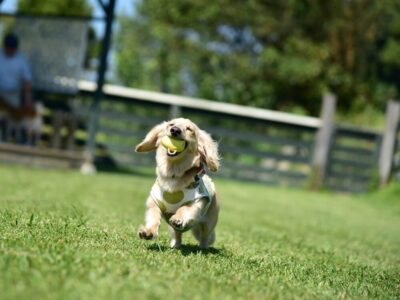 In addition to the dog run, there is a dog café where you can eat with your dog, a swimming pool for small dogs only, and a pool for medium and large dogs only.
There is also a "petting corner" where you can interact with about 70 different kinds of dogs from around the world, so even people who don't own dogs can enjoy themselves.
Akagi Shrine
Akagi Shrine, located in Maebashi City, is famous as a power spot that will help you achieve romantic success.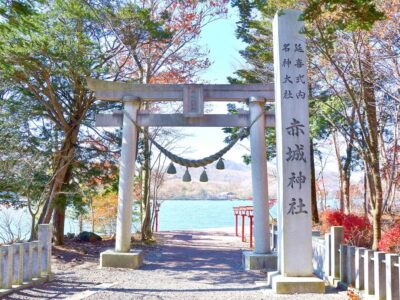 Akagi Shrine is located at the foot of Mount Akagi, and the red "Takkubitori Bridge" over the lake is a popular photo spot.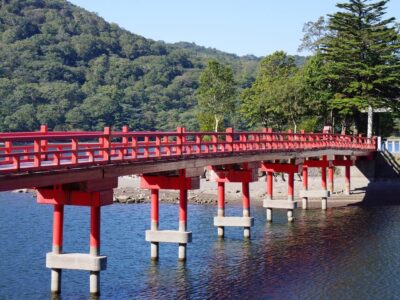 Experience the majestic nature with a view of the wide lake and the majestic Mount Akagi.
Local food and souvenirs
Gunma's gourmet food is simple but nostalgic and delicious. Here are two snacks that are readily available everywhere.
Yakimanju (Baked Pancakes with Tasty Sauce)
In Gunma Prefecture, yaki-manju is a popular local snack.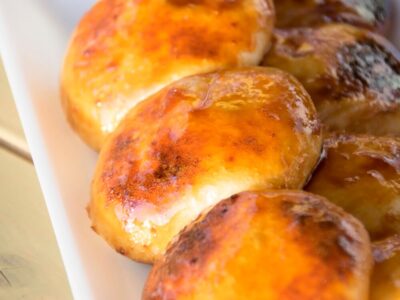 Although it has "manju" in its name, there is no bean jam in it. The dough is more like a steamed bun than a manju, and it is baked with sauce.
The sweet and spicy flavor of the sauce and the fluffy texture of the dough are a perfect match.
Misopan (Miso Bread)
Miso bread is one of the soul foods of the people of Gunma Prefecture. The saltweet miso sauce and the bread are a perfect match.
There is also an arranged menu such as "Miso Butter Bread" with butter added. If you visit Gunma Prefecture, be sure to look for Miso Bread.
Transportation
Takasaki station can be reached by bullet train, so it is quite accessible from Tokyo. Many spots are far from the station, so renting a car is a convenient option.
Editor's Note
Compared to places like Tokyo and Kanagawa, I think there are many lesser-known tourist spots in Gunma Prefecture. Gunma Prefecture has a lot of natural and spacious scenes like the ones in this movie. Since it is easily accessible from the Tokyo metropolitan area, why don't you take a short trip and experience the charm of Gunma Prefecture?