The movie "One Cut of The Dead" is a unique indie film that was released in 2017. It was produced with only JPY3million (USD27,000) budget and initially screened in only two theaters, but its reputation slowly spread and it won numerous awards...! The film was highly acclaimed overseas, and a remake has been produced in France.
The location of the hit movie "Don't Stop the Camera! was filmed mainly in the Kanto region, including Saitama Prefecture. It is an outstanding film that uses neither famous actors nor famous spots, but is still extremely entertaining. In this article, I will introduce sightseeing spots and gourmet food in Kawaguchi City, one of the two filming locations (Mito City, Ibaraki Prefecture, and Kawaguchi City, Saitama Prefecture).
Synopsis
A film crew is shooting a zombie movie in an abandoned building deep in the mountains. The film crew shoots a zombie movie in an abandoned building deep in the mountains, which is said to be a facility where the Japanese military experimented with reanimating corpses before the war...?
The actress does 42 takes, but no OKs, and the director orders a break. However, when the staff returned from the break, something was wrong...! It seems that the staff has turned into real zombies. Despite the situation, the director does not stop filming. The shooting continues while the zombies attack without interruption...
Please enjoy this film's surprising plot and the actors' performances.
Casting and Crew
Director/Screenplay : Shinichiro Ueda
Cast:
Takayuki Hamazu(Takayuki Higure)
Maou(Higure Mao)
Shuhama Harumi(Higure Harumi)
Kazuaki Nagaya(Kazuaki Kamiya)
Manabu Hosoi(Manabu Hosoda)
Ichihara Hiroshi(Yamanouchi Hiroshi
Shuntaro Yamazaki(Shunsuke Yamakoshi)
OSAWA Shinichiro (FURUSAWA Shinichiro)
Yoshiko Takehara (Yoshiko Sasahara)
YOSHIDA Miki (YOSHINO Miki)
Junna Goda (Ayana Kurihara), etc.
Almost the entire cast was chosen by audition. Some of the actors auditioned because they wanted to have their names in the end roll, and made their debut in this film as complete amateurs. Some actors even made their debut in this movie as complete amateurs.
Movie sets and locations
Let's take a tour of the locations of "One Cut of The Dead".
Former Ashizan Water Treatment Plant (Mito City, Ibaraki Prefecture)
The former Ashizan Water Treatment Plant is an abandoned building where the director and his film crew had a zombie fight. It was in use until 1993.
It looks like a zombie-infested place... The entrance also looks abandoned.
The city of Mito in Ibaraki Prefecture is a popular filming location and welcome movie lovers. However, this facility is closed to the public for preservation.
SKIP City (Saitama, Kawaguchi City)
There are a number of filming locations within the premises of SKIP City (Sai-no-kuni Visual Plaza).
Grand staircase next to the Sai-No-Kuni Visual Plaza
The grand staircase next to the Sai-No-Kuni Visual Plaza was used for the scene where the director's daughter Mao was shooting V-Cinema as an assistant director!
Studio 301 at the Movie Museum
Studio 301 at the Museum of the Moving Image was used for the TV station scene! In contrast to the tense zombie scene, this scene is a loose exchange of ideas.
District B, lined with lots of trees.
In the "B district" lined with lots of trees, they seem to be filming a scene where the actors are practicing!
SKIP City has a lot of filming locations. While playing around, be sure to look for the filming locations while comparing them to the main story!
Sights and tours around the city
Now, let's take a look at some of the tourist spots in Kawaguchi, Saitama, where SKIP City was located.
awaguchi City Green Center
The first place to visit is the Kawaguchi Municipal Green Center, which shows different faces depending on the season. The park is lined with numerous facilities, and flowers bloom in every season.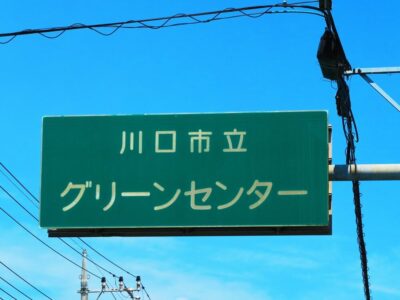 This is the symbolic main assembly hall. It's spacious inside, too!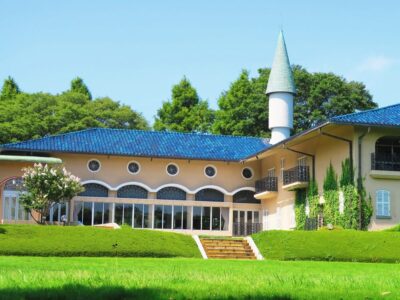 In the large park, there is a large fountain, a large greenhouse, a viewing platform, a miniature railroad where you can ride a small train, a children's plaza, and much more! There is even a bird center where you can see peacocks...! There is even a bird center where you can see peacocks...! In winter, the pool turns into an ice skating rink...!
The facilities open to the public seem to change depending on the season, so be sure to check out the website!
The entrance fee is 310 yen for adults, and a whopping 100 yen for those aged 4 to high school. Be sure to bring your student ID!
Spa Royal Kawaguchi
If you feel tired after walking around a lot, how about Spa Royal Kawaguchi?
It's a spa with 13 kinds of hot springs and a bedrock bath where you can rest and relax! They are very particular about their hot water, and use "Kuroyu (black hot water)," a raw hot spring water drawn from 1300 meters underground.
In addition to hot springs and bedrock baths, there are relaxation facilities, an Asian style cafe, and a large tatami room where you can read 3000 different comics and magazines...! Besides the hot springs, it's a place where you can relax and enjoy some food and comics!
Spa Royal Kawaguchi 3-13-27 Asahi, Kawaguchi-shi, Saitama
Open all year round 9:00 a.m. (6:00 a.m. on weekends and holidays) - last appointment at midnight
Local food and souvenirs
Next, let's take a look at some gourmet food in Kawaguchi City.
Hatagaya Sauce Yaki Udon
Saitama is said to be the second largest producer of udon noodle in Japan. This gourmet dish is a collaboration of such a specialty udon and a sauce developed jointly with Bulldog.
The name "Hatogaya" originally comes from the city of Hatogaya, but the name was lost after the merger with Kawaguchi City. The name "Hatogaya" originally came from Hatogaya City, but was lost when the city merged with Kawaguchi City.
Different restaurants have different arrangements, so it's a good idea to compare them!
Julien ice cream
This is a local ice cream only available in Kawaguchi, called "Julien ice cream".
The three flavors are made from Kawaguchi's specialty, Kinome Sansho (Japanese pepper), the symbol of Kawaguchi City's Yasuyuki area, and Kawaguchi-grown yuzu! A true Kawaguchi gourmet! You can purchase these at the Kawaguchi Ryokka Center Jiriyasu, which is also a roadside station!
Transportation
If you want to use transportation in Kawaguchi City, Saitama, renting a car or driving your own car is the best way to get around. If you find it difficult to get around by car, I recommend the Kokusai Kogyo bus service! These buses leave from Ikebukuro and other terminal stations in central Tokyo.
Here are the buses that go to the locations mentioned in this article.
Be careful not to forget to take your numbered ticket when you get on the bus, as many buses in Saitama Prefecture are postpaid.
Editor's Note
Don't Stop the Camera! Here are some tourist spots and gourmet information for Kawaguchi, the location of "Don't Stop the Camera! The appeal of Kawaguchi is that you can enjoy it on a low budget! Kawaguchi's appeal is that it's a great place to enjoy on a low budget, and it's also been ranked number one in the "Best Places to Live Awards*" for two years in a row! Kawaguchi's appeal is that it can be enjoyed on a low budget!
(*This is an annual survey conducted by ARUHI, a financial institution specializing in mortgages, and the ranking results for fiscal years 2020 and 2021.)