Studio Ghibli released "Ponyo" in 2008, and it went on to be the fifth-highest-grossing anime film of all time, likely due to it's memorable characters, light story, and gorgeous scenery depicting a small port city. If you have been longing to see the beautiful cliffs and azure ocean waters of "Ponyo" then you have come to the right place! In this article we will guide you to the real location from "Ponyo," Tomonoura, in Japan's Hiroshima Prefecture. This port city is bursting with history, culture, and of course, abundant natural beauty. It is also a foodie paradise as visitors can enjoy the famous "Ponyo's Ramen." In addition, there's the opportunity to enjoy the fresh sushi and sashimi that comes straight from the local waters.
We will also dive into the story of Ponyo, the  legends and stories that inspired it, and some of the themes of the film. So, in case it's been a while since you've seen this film, let's start with the plot!
A Determined Goldfish: The Plot of "Ponyo"
Five year-old Sosuke lives "on a cliff near the sea" with his slightly reckless mother, Lisa, and his father Koichi, who is often out at sea. One day, he encounters a small trapped goldfish on the shore who he names Ponyo, not knowing that her name is actually Brunhilde. The two of them quickly become attached to each other, but Ponyo's father, human-wizard Fujimoto, is anxious to get his daughter back to her home in the sea. He succeeds, but Ponyo refuses to stay in the ocean.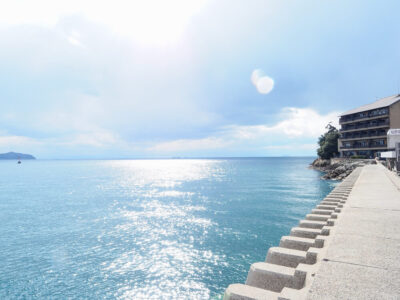 Ponyo uses her father's magic to turn into a human and races back to Sosuke, but the results are disastrous. Her actions cause the world to become imbalanced, and Sosuke's home is hit with torrential rains and a tsunami which transforms everything into an underwater paradise for ancient sea-creatures.
Will Ponyo be able to remain a human, or will the world be ruined forever by the attempt?
Ponyo's 2 Main Themes: Environmentalism and Family
Even the simplest of Miyazaki's movies have complicated themes that run as an undercurrent, so that viewers never really feel attacked by his perspectives. "Ponyo" is no exception. The two main themes are environmentalism and family, let's take a look how they are presented in the film.
Environmentalism, Pollution, Climate Change
"Ponyo" is a fun fantasy film for all ages, but it does have a strong environmental message. Environmentalism in Ponyo is far more subtle than Miyazaki's other environmental epic - "Princess Mononoke" but it is woven throughout the narrative.
It is in the small details - Ponyo initially becoming trapped inside of a glass jar - essentially threatened by garbage in the ocean - and needing to be rescued  by Sosuke, or Lisa being annoyed by Fujimoto when she thinks he is spraying weed killer. It is also in the overall story which is about the forces of nature losing their "balance." In the film their seaside town is covered by water and becomes a paradise for prehistoric fish, which alludes to global warming and rising water levels all over the world.
Fujimoto as a character is a person who has given up his "humanity" and chosen to live in the ocean because he is disgusted by the lack of respect that humans have shown for nature and now he longs to restore the world to what he believes is the "natural" state.
The Importance of Mutual Respect: Family
"Ponyo" is in a way, a tale of two families, and there is one huge parallel between Sosuke's parents and Ponyo's. Interestingly, both parents are separated for most of the film, with Sosuke's father being stuck out at sea, and Ponyo's mother busy being an ocean goddess.
When making a decision for Ponyo's future, her parents do not act alone, but rather come together to discuss what is best for her, and they are also very careful to consider what Ponyo wants as a key part of their decision. In Miyazaki films you will note that all "good" parents have this trait. They listen to their children, believe them, and respect them. Lisa also listens to and respects Sosuke, and thus receives that same respect in return.
2 Japanese Legends Behind "Ponyo"
It's this overarching idea of harmony, as described above, that flows throughout the whole film, and separates it from the original story of "The Little Mermaid", which many believe to be one inspiration for "Ponyo." Miyazaki has actually said in the past that he was troubled by "The Little Mermaid's" premise that a mermaid cannot have a soul.
So, it is more likely that Miyazaki found inspiration in the Japanese legend of Urashima, which is about a princess from the sea who falls in love with a fisherman. In addition, the Japanese folklore surrounding mermaids is a bit different from western ideas (no seashell bikinis here!).
A Fish with a Human Face: Japanese Mermaids
When Sosuke tries to show Ponyo to one of the elderly ladies at the home, she panics, and tells him that human-faced fish will bring misfortune and maybe even a tsunami. She is referring to the Japanese myth of the Ningyo. Ningyo means "human fish" and is often translated into english as "mermaid." Their appearance is slightly different from western mermaids, as they were described with monkey-like mouths, sharp teeth, and shining beautiful scales.
Traditionally, if a Ningyo washed up on shore it was considered a very bad omen of coming war or disaster. Though their flesh is said to be delicious, eating a Ningyo was said to grant an unnatural and very long life. As in the legend of Yao Bikuni, who ate the flesh of a Ningyo and lived to be 800 years old.
The Fisherman and Ocean Princess: Urashima Taro
The tale of Urashima Taro starts with the protagonist, a fisherman named Taro, rescuing a little turtle. The next day he is visited by a bigger turtle who tells him the little turtle he saved was actually Otohime, a princess of the ocean, in disguise! Taro is invited to the undersea kingdom to meet Otohime, who wants to thank him. He spends 3 days in this beautiful paradise, until he feels he needs to return home. However, when he returns he finds out that 300 years have passed, and everyone he knew is gone!
The purpose of this story is to comfort fisherman and their families. Working out at sea can be perilous and for the families of those who do not return, it can be difficult to find closure. It is nice to think that just like Urashima Taro, they have been spirited away to enjoy a beautiful life in an ocean city, and they will return in the future.
So, there are two main connections between "Urashima" and "Ponyo"; the act of rescuing an ocean princess and enjoying a carefree time in a city under the ocean. However, there is actually one more connection. The tale of "Urashima" may have originated from an area near Tomonoura, the Syonai Peninsula, that used to be called  'Urashima' in old days.
Examining a Fan Theory: Is Everyone Dead?
For such an energetic children's film, "Ponyo" sure did inspire a dark theory. There are many who wonder if everyone in the film died in the tsunami. This also isn't the first time a Miyazaki film inspired an "Are they actually dead?" theory, as it was a popular point of conversation for "My Neighbor Totoro" as well!
There are a few reasons for the support of this urban legend in "Ponyo." One is that Sosuke's town, apart from his cliff-side house, appears to be completely submerged under water. How is it that everyone survived? The second point is the unreal beauty of the landscapes after the tsunami, including crystal clear water. In reality, water after a tsunami is extremely cloudy, due to all of the raised debris.
Finally, despite the fact that a tsunami is a huge tragedy and a traumatizing event, the people Sosuke and Ponyo encounter seem to be...blissfully happy and carefree? Everyone is existing in a paradise state, especially the grandmothers who are no longer wheel-chair bound, free of pain, and giggling like schoolgirls.
Earlier we mentioned the legend of Urashima, which may have been one inspiration for "Ponyo", and also has a similar theme of a "paradise under the sea."



Cast and Crew
"Ponyo" is another Ghibli film from the writer/director and producer team of Hayao Miyazaki and Toshio Suzuki, and the musical talents of Joe Hisaishi. Ponyo's theme song, "Gake no Ue no Ponyo" was performed by Japanese group Fujioka Fujimaka and sung by Nozomi Ohashi, who was only eight years old at the time.
The movie also features some musical inspiration from the opera "Die Walkure" by Richard Wagner. The song "Rise of the Valkyries" in particular lead to the creation of the scene where Ponyo is running on the water, and her birth name, Brunhilde, is a reference to a character from the opera as well!
English Cast
The English dub of Ponyo is full of famous names like Liam Neeson, Cate Blanchett, and Noah Cyrus - who played Ponyo and also did the English theme song along with Frankie Jonas. Take a look below to see who voiced your favorite Ponyo characters.
Ponyo: Noah Cyrus
Sosuke: Frankie Jonas
Lisa: Tina Fey
Koichi: Matt Damon
Gran Mamare: Cate Blanchett
Fujimoto: Liam Neeson
Toki: Lily Tomlin
Yoshie: Betty White
Kayo: Cloris Leachman
Japanese Cast
Ponyo: Yuria Nara
Sosuke: Hiroki Doi
Lisa/Risa: Tomoko Yamaguchi
Koichi: Kazushige Nagashima
Gran Mamare: Yuki Amami
Fujimoto: George Tokoro
Toki: Kazuko Yoshiyuki
Yoshie: Tomoko Naraoka
Kayo: Tokie Hidari
Ponyo Locations
Miyazaki traveled to Tomonoura when he was coming up with the story and concepts of "Ponyo." In this section we will guide you through the city and the surrounding area and introduce you to very best "Ghibli" views - seaside, lighthouses, and red temples towering on cliffs.
Tomonoura: The Real-Life Home of Sosuke and Ponyo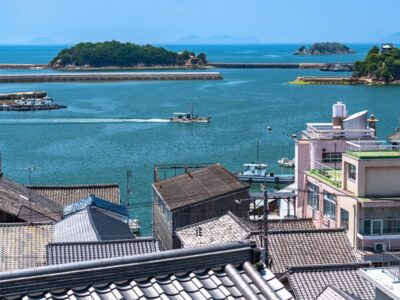 Tomonoura is located in western Japan, in Hiroshima prefecture. This port city is a historical landmark, with an abundance of natural beauty due to being part of Setonaikai National Park and the unique currents of the Seto Inland Sea. The mixture of historical charm, laid-back small town atmosphere, and unbeatable views make it easy to see why it inspired Hayao Miyazaki to create "Ponyo." Read on below to find out how to embark on your Studio Ghibli "Ponyo" pilgrimage!
Iouji Temple: A Historic Temple with Great Views
In order to find Iouji Temple you will need to follow a charming cobblestone road up a mountain, Ushiro-Yama. Once you get there you will be greeted by a beautiful temple with one of the best views of the port city, Tomonoura, available. This kind of view will definitely make you feel like Sosuke, who lived on a cliff above the city in the movie.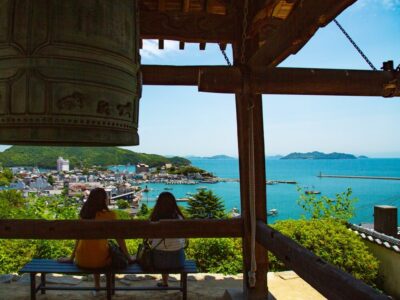 For fans of Japanese history Iouji temple also has a shrine dedicated to Hiraga Gennai, who was an all-around genius from Japan's Edo period. He was a physician, a painter, an author, and an inventor, not to mention that Gennai was also openly gay, and wrote books on the subject of homosexuality.
Tomoko Harbor: The Only Edo-Era Port in Japan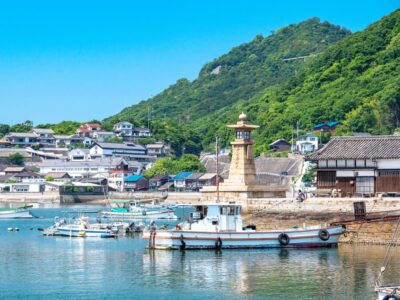 The city of Tomonoura is rich not only in natural beauty, but fascinating history and related architecture. The harbor here has a unique circular shape which has made it a point of interest for not only visitors, but movie directors. Miyazaki was not to only one inclined to put it into his films, actor Hugh Jackman also visited here when he was filming "The Wolverine" with director James Mangold!
The lighthouse in this port is a key sightseeing point, it is smaller than western lighthouses, but the Japanese design gives this harbor its unique atmosphere. It is especially enchanting during sunset, when all of the lights in the city start to flicker on and reflect on the water.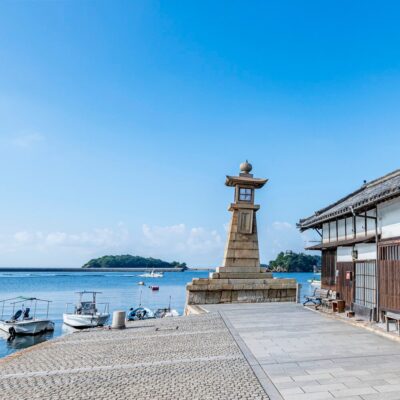 Are you familiar with legendary samurai Sakamoto Ryoma? One of his ships, the Iroha Maru sank in this very harbor. A replica runs today as a ferry, so it's a nice way to get out on the water and enjoy the beauty of the ocean as Miyazaki intended.
Fukuyama Castle: The Last Great Edo Castle
Fukuyama Castle, 福山城, or Fukyamajō in Japanese, was the last castle built during the Edo Period (1603 - 1867) and was a key point in defending western Japan. The original buildings were unfortunately destroyed during WWII, but the castle was rebuilt in 1966.
It is very easy to access from Fukuyama Station and it can grant a lot of insight into how people in the part of Japan lived during feudal times. Nearby you can find the Hiroshima Prefectural Museum of History, Fukuyama Museum of Art, and the Fukuyama Museum of Literature.
The castle is undergoing renovations until August 2022, so it will hopefully be perfect to visit once the current pandemic is under control.
Abuto-Kannon: The "Breast" Temple
Abuto-Kannon, also known as Bandai-ji Temple, must have one of best locations in Japan. It is built on cliffs that jut out over the Seto Inland Sea, so not only is the view great, but the red color of the temple contrasts gorgeously with the sandy color of the surrounding stone.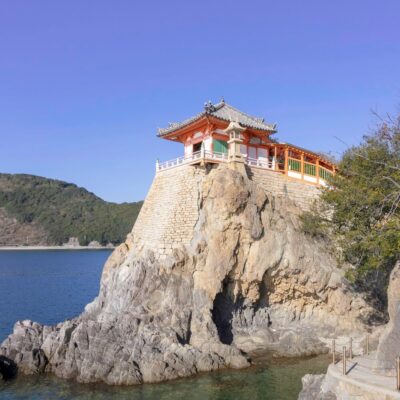 At this temple you may be surprised to find breast-shaped goods at the shops, including Ema's, which are wooden plaques where people write their names. This is because the deity Kannon is associated with pregnancy, smooth-delivery, and breastfeeding. Many women who hope to be mothers, or women who are expecting come to this temple to pray to Kannon.
Food Recommendations
Anime food always looks delicious enough to make your mouth water, and Studio Ghibli's animators are incredibly adept at making even a simple fried egg look like the best dish in the world. If you were enticed by the Ramen that Sosuke and Ponyo eat, read on to find our recommendations for some local Japanese cuisine!
Onomichi Ramen
In this area, Onomichi Ramen is a local specialty, so it is not to be missed when traveling there. The key ingredients are small fish from local waters, and the use of pork fat and soy sauce to flavor the soup. Though Ramen does not usually get called "healthy," many here consider Onomichi Ramen to be healthy due to the high calcium content in the fish.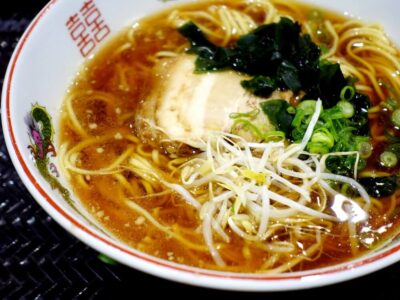 If you travel to the hometown of this dish, Onomichi, you will find many specialty restaurants, with the most famous being Syukaen. Due to its fame this restaurant is busy, so it's best to go around opening time. If the crowds put you off take a walk around Onomichi, as it is a beautiful town with lots to offer - like The Temple Walk, which is the easiest way to visit local temples.
Sanuki Udon
Udon is a popular dish in Japan with locals and tourists alike, as these plump noodles are arranged in flavorful soups and are very fun to slurp (feel free to be as noisy as you like). Sanuki Udon is a variation on the traditional noodle as the texture is chewy - most udon is either slightly firm or soft, depending on the style.
In Fukuyama there are a number of restaurants that specialize in this style, you just have to look for the hiragana of Sanuki on their signs (さぬき). One local chain, called Marugame Seimen, is a good option for visitors unfamiliar with the area because they have a few locations. They offer Udon, Tempura, Onigiri, and your choice of toppings, so it's fun to experiment.
Seafood
It may be a little dark to suggest seafood in an article about "Ponyo", but it would be a shame to visit this coastal area without trying some of the local grilled fish, sushi, or sashimi. Chitose, a restaurant in Tomonoura, offers local cuisine with an ocean view. The specialty here is "Tai Meshi," which basically translates to a meal featuring Tai, Red Sea Bream, which is caught locally.
Editor's Note
In this film Hayao Miyazaki clearly captured some of the magic that made "My Neighbor Totoro" a timeless favorite, as "Ponyo", with its beautiful scenery, family dynamics, and environmental message, appeals to children and adults of all ages. Though Miyazaki was considering making a direct sequel, "Ponyo 2", he was persuaded to work on his next project instead, "The Wind Rises" (though we still hope to get a "Ponyo 2" in the future!).
Taking everything under consideration, it is easy to see why "Ponyo" has joined the ranks of Ghibli classics. It is a fun film for children, but it also offers adults some food for thought. We can consider this "balancing act" to be one of Miyazaki's specialties.
We hope that you enjoyed reading our thoughts, theories, and recommendations, and that you will be able to visit Tomonoura one day!